News
Assassins kill Reuters stringer who investigated 'war on drugs'
Friday 10 December 2021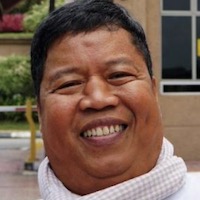 A journalist who had worked on Reuters Pulitzer Prize-winning coverage of the drugs crackdown in the Philippines has been shot dead.
Jesus "Jess" Malabanan (photo), 58, was shot once in the head as he watched television at a stall run by his family in the city of Calbayog in Samar province, police said. He died while being taken to hospital. The hit was carried out by two motorcycle-riding men on Wednesday night.
A correspondent for The Manila Standard, Pulitzer Prize-winner Manny Mogato, said Malabanan had received deaths threats.
"Jess helped Reuters a lot in the drug war stories that won a Pulitzer in 2018. Reuters helped him hide for months in Samar when he was threatened in San Fernando, Pampanga," Mogato said on Facebook.
Reporters Without Borders (RSF) urged an "immediate investigation to collect clues and identify killers and sponsors as quickly as possible".
Reuters said it was "deeply saddened" to learn of Malabanan's death. While working as a stringer he had investigated the side effects of the "War on Drugs" policy launched by president Duterte, especially the supply chains from China.
But his writing on drug trafficking made him the focus of "repeated" serious threats, and several years ago Reuters had helped him move from the city of Pampanga, in the north of the country where he was based, "to hide on the island of Samar", RSF said.
Daniel Bastard, RSF's Asia-Pacific director, called on the Philippine authorities "to identify those responsible for the atrocious murder of Jess Malabanan.
"[It appeared that] he was targeted for his investigations, some of which are particularly sensitive. The handling of this case and the fight against impunity for crimes against journalists is a test for the rule of law in the Philippines."
Dozens of journalists have been killed or come under attack under Duterte and his predecessors. Malabanan is believed to be the 22nd journalist to be killed in the country since Duterte took control in June 2016, according to figures compiled by the National Union of Journalists in the Philippines. The union issued a statement "condemning the senseless killing".
RSF recorded 50 cases of journalists killed in connection with their work from January 1 to December 15, 2020 - a similar number to 2019 when 53 journalists were murdered. ■
SOURCE

The Times