News
Reuters 'out of purgatory' - Thomson Reuters is keeping it
Tuesday 23 November 2021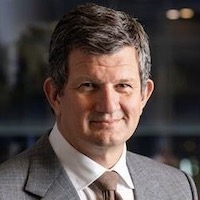 Thomson Reuters has decided to keep Reuters News, chief executive Steve Hasker (photo) said on Tuesday, and there is a lot of opportunity for it to be bigger.
The unanimous endorsement came at a board meeting in Washington two weeks ago when directors of the Toronto-based corporation discussed Reuters News, which was acquired by the Thomson organisation when it bought all of Reuters for $17 billion in 2008 and renamed the parent company Thomson Reuters. London-based editor-in-chief Alessandra Galloni attended the board meeting.
"My point of view as expressed to the board was, there's lots of opportunity within Reuters News and we've exploited some of it but we haven't really taken advantage of all of it," Hasker told staff at a "town hall" meeting during a visit to London.
"I think Reuters News can and should be a bigger deal globally both for Refinitiv, for our agency customers and for the worldwide consumer audience," Hasker said, "and that's obviously easy for me to say and very difficult to fulfil, but the board unanimously - I actually asked the board, to each person to provide their point of view, and wrote notes on each of their points of view because I wanted to give them each a chance - we have 14 board members including me - to go round the table. We finished with David Thomson [Thomson Reuters chairman] and every single board member said yep, I agree, and that's that."
Hasker quoted one director saying: "This is great, because Reuters is out of purgatory, because there was always a sense, you know, in the newsroom and elsewhere, that, well, are we keeping that or are we selling it."
Hasker added: "We're keeping it, and when I met with Alessandra's team not so long ago the first question that came out was 'Are you going to sell Reuters News?' And I said I'm going to give you the answer, but what do you want the answer to be? Because I couldn't tell whether it was please sell or please … you know, so anyway, we're keeping it." ■