News
LSE backs CEO's 25% pay hike
Tuesday 26 October 2021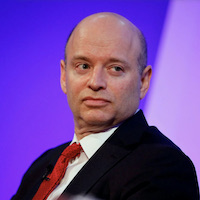 The London Stock Exchange Group confirmed a 25 per cent pay rise for CEO David Schwimmer (photo), saying most shareholders backed the package to reflect the exchange's $27 billion Refinitiv takeover.
Shareholders at the annual meeting in April voted by 76.5 per cent in favour of the pay package, but because 23 per cent vote against, the board had said it would consult further with shareholders.
"These engagements confirmed that the large majority of shareholders continue to support the decision and recommendations of the Remuneration Committee as the Group becomes a significantly larger and global business," it said in a statement on Monday.
Refinitiv, formerly the financial and risk division of Thomson Reuters, was bought in 2018 by a consortium led by private equity firm Blackstone which sold it to LSEG in a deal finalised in January 2021.
Schwimmer's pay was reported in March to have almost tripled to £6.9 million in 2020 following the Refinitiv takeover.
Schwimmer, a US banker who has been chief executive of LSE since 2018, was paid a base salary of £800,000, a £1.4 million bonus, plus £4.3 million in long-term bonus shares, according to the company's annual report. Alongside other benefits such as £213,000 of private medical insurance and "expatriate allowances", Schwimmer's total 2020 pay was £6.9 million - a 180 per cent increase on the £2.5 million he collected in 2019. ■
SOURCE