News
Nazanin 'traumatised' after losing court appeal
Saturday 16 October 2021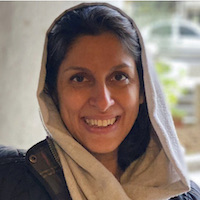 Nazanin Zaghari-Ratcliffe (photo), the Thomson Reuters Foundation project manager held in Iran since 2016, has lost an appeal against a second jail sentence.
Her family said on Saturday that there had been no court hearing, but her lawyer was informed of the outcome.
First jailed for five years after being accused of plotting against the regime, she was sentenced to another year's confinement in April on charges of "spreading propaganda".
She spent the final year of her term on parole at her parents' home in Tehran. Concerns have been raised that she may be returned to prison.
Her husband Richard Ratcliffe said his wife was "waiting for the call to summon her back" and she was "traumatised at the thought of having to go back to jail".
"I don't think it will happen immediately but I think it's only a matter of time. She's being used as a bargaining chip," he told the BBC.
Their daughter Gabriella, who was with her mother in Tehran when she was arrested, has been with him in London since 2019.
British foreign secretary Liz Truss denounced the Iranian decision as "an appalling continuation of the cruel ordeal" Zaghari-Ratcliffe is going through. "We are doing all we can to help Nazanin get home to her young daughter and family and I will continue to press Iran on this point," she said.
Zaghari-Ratcliffe completed a five-year sentence in March this year, only to be given a further one-year jail term for "propaganda against the system".
She is one of a number of Western passport holders being held by Iran in what human rights groups condemn as a policy of hostage-taking aimed at winning concessions from foreign powers.
Her husband has alleged that she is being held hostage over a long-standing debt of £400 million that Britain owes Iran for a tank deal that was never fulfilled. ■
SOURCE