News
Reuters editor-in-chief to step down
Wednesday 6 January 2021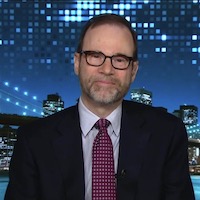 Stephen Adler (photo), editor-in-chief of Reuters for the past ten years, will retire in three months' time.
He told staff in a statement on Wednesday that it had been an honour "and certainly the highlight of my career, to lead this extraordinary news organization".
Adler, 65, a former editor with The Wall Street Journal, wrote: "I am so grateful to you, my consummately talented and hard-working colleagues. You are simply the most dedicated, courageous, and engaging group of journalists I have ever known."
He said he was as sad to be leaving as he was proud of "the consequential work we have done together. We have reported the news with speed, accuracy, fairness, and insight in every medium. We have provided unique value to our customers, spoken truth to power, and made the world a better place with our factual and fearless journalism."
Adler said it was the right time for him "to pass the baton". He was looking forward to writing, teaching, advocating press freedom and media literacy, "and finding my way toward unexpected new challenges."
Reuters president Michael Friedenberg, who joined Reuters in 2018, said in a separate message that Adler had played an integral role in transforming Reuters into "a contemporary, diversified media organization built around a world-class newsroom."
He noted Adler's leadership that had resulted in "seven Pulitzer Prizes and eight Pulitzer finalists, eclipsing all past Reuters records".
He added: "We now have the exciting opportunity for a new leader to build on this remarkable legacy. Steve will leave Reuters in April, but he will remain fully engaged as Editor-in-Chief until then. We will begin the search for a successor in the coming days. The post will be advertised internally and externally on the Thomson Reuters Careers site."
Adler joined Thomson Reuters in 2010 after leaving BusinessWeek, where he was editor-in-chief, when the magazine was purchased by Bloomberg. His job was to set up a dedicated news services for Thomson Reuters' legal, tax and accounting and healthcare and science divisions. He had previously been an investigative editor at The Wall Street Journal and one-time editor of The American Lawyer.
At Reuters he replaced David Schlesinger, editor-in-chief since 2007.
Steve Hasker, president and CEO of Reuters owner Thomson Reuters, praised Adler as a "tireless advocate for independent journalism and a champion for press freedom and media literacy."
Adler gained attention four years ago when he called for a non-partisan approach to US political coverage during the early days of the Trump presidency. In a memo entitled "Covering Trump the Reuters Way," he instructed Reuters journalists to "operate with calm integrity," practicing the same "intrepid and unbiased" journalism that enabled the news agency to operate in more than 200 locations around the world.
"So what is the Reuters answer? To oppose the administration? To appease it? To boycott its briefings? To use our platform to rally support for the media? All these ideas are out there, and they may be right for some news operations, but they don't make sense for Reuters," Adler wrote.
Though Reuters has a diversified business model, it has not been immune to cost constraints felt across the industry. In 2013, the agency employed around 3,000 journalists. It now numbers 2,500. In 2013, Reuters shut down its digital initiative, Reuters Next, and last year closed its direct-to-consumer television app Reuters TV after five years.
Reuters gained a significant measure of financial security in 2018, with a 30-year, $325 million-a-year agreement to supply news to Refinitiv - the financial information provider formed after Thomson Reuters' sale of a majority stake in its former Financial & Risk business to a group led by private equity firm Blackstone. The deal made Refinitiv the largest single customer of Reuters.
In the year after the deal closed, Reuters reported that Refinitiv acquiesced to pressure from the Chinese government and blocked from its terminals in mainland China more than 200 Reuters articles that could be seen as critical of Beijing. Adler and Friedenberg publicly criticised Refinitiv for the decision.
In his announcement to staff Adler counselled colleagues to uphold the Trust Principles, a set of standards adopted in 1941 which continue to define how Reuters operates.
"If I have one piece of advice," he said, "it's to stay true to the Trust Principles - and preserve our defining commitment to integrity, independence, and freedom from bias." ■