News
Obituary: Rashid Hadjee
Friday 28 August 2020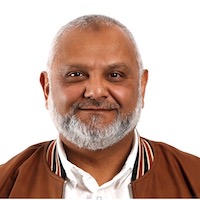 Rashid Hadjee, the much loved and respected Reuters office manager for southern Africa, died of COVID-19 on 17 August in hospital in Johannesburg. He was 54.
Rashid first joined Reuters in 1994, left in 1998 and then was persuaded to return in 2006. He was recognised both inside and outside South Africa as a quietly efficient organisational master and had been involved in the planning of coverage all around the region, including the 2010 World Cup and the funeral of Nelson Mandela in 2013.
Tributes following his death included fulsome praise from overseas journalists and technicians who had worked on the World Cup, a huge logistical operation that went very smoothly despite being the first edition of the event held in Africa.
Known for his mischievous grin, Rashid was fiercely loyal to Reuters and to the staff who won his respect, but he was also known for a withering look directed at those who upset him, an anger that rarely lasted long.
Rashid was born on a farm in Volksrust, 250 km southeast of Johannesburg, and developed his lifelong passion for cars when he started driving, aged eight. From the age of 12, he drove the family truck carrying vegetables to the Johannesburg market, wearing a cap to disguise his youth. When he eventually got his driving licence at 18, he paid for it with a bag of potatoes.
Rashid was much more than a gifted logistics manager, as a group of around 50 former and serving colleagues from Reuters and Refinitiv, speaking from southern Africa, Asia, Europe and the United States, testified when they joined an emotional and moving memorial gathering over Zoom on 21 August.
Speaker after speaker expressed respect and affection for Rashid, who was called Oom or uncle by many on the call, while others referred to him as a brother or father. They exchanged anecdotes about his life and paid tribute to his humanity, kindness, support for junior and foreign staff, love of banter, and a wicked sense of humour. His desk in the Johannesburg office was a magnet for staff not just from editorial but also from Refinitiv.
Colleagues on the call, some in tears, said he had a heart of gold and could not be replaced. Former correspondents spoke warmly of how he looked after their families when they first arrived or when they were nervously setting off for a difficult assignment. "You knew you were in good hands, you could count on him," said Lesley Wroughton, a former correspondent in South Africa, Angola and Washington.
Former managing editor Michael Lawrence and former Africa editor Barry Moody both said you could leave Rashid with a task, however challenging, and forget about it, knowing it would get done.
Hajira Fewster, Refinitiv head of HR in sub-Saharan Africa, said: "His generosity and kind heart knew no boundaries."
Andrew Edgington, vice president special technology services, Reuters Technology, said that Rashid was the first point of call for any technical or logistical problem anywhere in Africa. "He will leave a massive hole," he said.
Others spoke of how they could concentrate on their jobs after arriving in Jo'burg on assignment because Rashid would take away all the stress of settling in.
"He was one of the kindest people I ever met," said former Southern Africa bureau chief Andy Quinn.
Reuters Johannesburg video journalist Siyabonga Sishi said: "Things will never be the same for us. A legend has left us all."
Several speakers spoke of Rashid's passion for fast cars, particularly Mercedes. Marius Bosch, Middle East and Africa general manager, who knew him throughout his time at Reuters, said Rashid and his petrol-head friends would race their vehicles at high speed at 4 am along the deserted road from Johannesburg to Bloemfontein. On one occasion, he sent a photo on WhatsApp to Marius showing his speedometer reading 280 kph.
Sisipho Skweyiya, Reuters Johannesburg TV producer, was one of the last to see Rashid before he went home with a fever. She said he came to the office every day during the pandemic, while others were working from home, "He was so kind, so caring, so dedicated," she said. "He wanted to make sure everything was done that we needed."
Rashid leaves his wife, Faiza, and two daughters, aged 26 and 28. ■