News
Trump to Reuters: 'Are you talking to me?'
Thursday 3 October 2019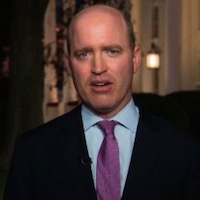 President Trump lashed out at Reuters reporter Jeff Mason (photo) in an angry exchange at the White House.
Mason asked Trump what he wanted the president of Ukraine to do about Democrat rival Joe Biden and his son. Instead, Trump criticised European countries for not providing aid to Ukraine, attacked the US impeachment investigation as a "hoax" and berated Mason for being "rude".
The exchange:
MASON: "The question, sir, was what did you want President Zelensky to do about Vice President Biden and his son Hunter?
TRUMP: "Are you talking to me?"
MASON: "Yes. It's just a follow-up of what I just asked you, sir."
TRUMP: "Listen, are you ready? We have the president of Finland. Ask him a question."
MASON: "I have one for him. I wanted to follow up on the one that I asked you."
TRUMP: Did you hear me? Did you hear me? Ask him a question. I've given you a long answer, ask this gentleman a question. Don't be rude. I've answered everything. It's a whole hoax. And you know who's playing into this hoax? People like you and the fake news media that we have in this country. And I say in many cases, the corrupt media."
VIDEO ■
SOURCE

Reuters