News
Nazanin ends Iran hunger strike after 15 days
Saturday 29 June 2019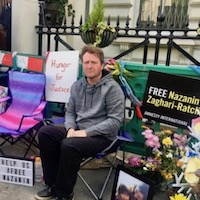 Nazanin Zaghari-Ratcliffe, the Thomson Reuters Foundation project manager jailed in Tehran for alleged spying, has ended her hunger strike after 15 days.
Her husband Richard, who was also on hunger strike in London (photo), said he was relieved and "wouldn't have wanted her to push it much longer".
She told him on the phone on Saturday morning she felt nauseous, he said.
Ratcliffe, who has been camping outside the Iranian embassy in London, said he had also now eaten.
"I had a phone call this morning and it's good news - she's decided to stop her hunger strike, which means that I'll be stopping it," he told BBC Radio. "I'm very relieved, I have to say. It was getting hard for me, but I'm sure it was much harder for her."
His wife was under "quite a lot of pressure" from the Iran's Revolutionary Guard to break her strike, Ratcliffe said.
She ate some porridge with apple and banana for breakfast on Saturday, he added.
Asked what the joint hunger strike had achieved, Ratcliffe said more than 100 MPs had visited him outside the Iranian embassy to show solidarity with his wife, and her case had received media attention around the world.
"In Iran, we've become a much bigger story than we were before and there's an awareness that really this needs to be solved," he said.
The protest made Iranian diplomats in London "cross", with some "trolling" him on social media, he said.
Director of Amnesty International UK, Kate Allen, said although their hunger strike was over, "the deep injustice of this case isn't".
Urging the Iranian authorities to release Zaghari-Ratcliffe, she said: "Nazanin is still a prisoner of conscience, still unfairly jailed after a sham trial, and still being subjected to the torment of separation from her home and family."
Mrs Zaghari-Ratcliffe was arrested at Tehran's Imam Khomeini Airport in April 2016 and has always maintained the visit was to introduce her daughter, Gabriella, to her relatives.
She is serving her five-year sentence in Tehran's Evin Prison. ■
SOURCE

BBC