News
Obituary: Brendan Boyle
Tuesday 12 February 2019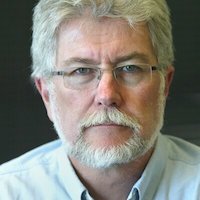 Brendan Boyle (photo), who was Johannesburg bureau chief from 1997 to 2004, died in Cape Town on 10 February from cancer. He was 68.
South African-born, he joined Reuters in 1988 from UPI and, with his local knowledge and extensive contacts, proved a huge asset in the tumultuous years leading up to the drama of Nelson Mandela's release from jail, the death of apartheid and the transition to democracy, Anton Ferreira writes.
The 1980s were a decade of non-stop of political violence in South Africa's black townships and the eyes of the world were on the country - most of the major networks and leading newspapers sent correspondents. For many of them, Brendan was the guy they called when they needed instant insight or a phone number.
He was unstinting in his help for his Reuters colleagues and in his commitment to getting the story, and won over political leaders of all stripes with his accurate, balanced reporting.
There was hardly a single person of any significance in the turmoil of the early '90s who did not take Brendan's calls. From National Party leader FW de Klerk to Mandela, Archbishop Desmond Tutu, Thabo Mbeki and right-wing Afrikaner separatists, everyone knew him and was happy to be buttonholed when he approached, recorder in hand.
From January 1989 until he took the bureau chief job in Johannesburg, he had what I thought of as the best job in Reuters: Cape Town correspondent. He could indulge his passion for sailing there, and his put his schmoozing skills to excellent use covering parliament.
Marius Bosch, now general manager of the Middle East and Africa, recalls seeing Brendan outside the Victor Verster prison on the day Mandela was released from 27 years of internment in 1990.
"I was covering the release for the Cape Times and Brendan was standing on top of a flatbed truck with a radio telephone in his hand (this was pre-cellphone days). He was describing the release and as usual he was probably minutes ahead of rival wire services," Bosch says.
"What I most remember about Brendan was that he was always prepared to help a young reporter, introduce you to contacts and help shape your stories. Always the consummate professional."
It's a common theme for those remembering the time they worked with Brendan.
"He was very professional," says photographer Mike Hutchings. "I learnt a lot from him. And he was compassionate, and so solid as a friend."
Hutchings recalls when he and Brendan were part of the media contingent following Mandela on a tour of children's creches. At the time one of the big stories was the controversial attitude of President Mbeki, Mandela's successor, to the HIV/Aids pandemic - Mbeki thought the jury was still out on whether HIV caused Aids, and refused to provide state funding for anti-retroviral drugs.
At his stop, Hutchings says, Mandela made remarks that were obviously a veiled condemnation of Mbeki's policies on Aids. Mandela named all the leaders on the continent who were making an important contribution to the fight against the disease, and pointedly omitted Mbeki.
Brendan wrote the story, and by the time the tour arrived at the fourth crèche, it was on the wire and Mandela had learnt of it.
"Looking directly at Brendan," Hutchings says, "the old man said: 'I said some things that were apparently misinterpreted by the media. I did not attack Mbeki.' But he then slowly repeated the exact same remarks.
"Brendan had got it spot on, but he was looking a bit sheepish, because all the attention was focused on him. Then at the end of the crèche tour the old man came over to Brendan and threw his arms around him. As if to say, 'I had to deny attacking Mbeki, but …'"
It was Brendan, with his persistence and excellent contacts, who played a key role in organising a face-to-face interview for the Reuters team - TV, photos and text - with Mandela shortly after his release.
After leaving Reuters Brendan joined a local media company and worked for the Johannesburg Sunday Times before being appointed editor of the Daily Dispatch - a job that Donald Woods once held. He returned to the Sunday Times as an associate editor, and later joined the University of Cape Town, working in its Land and Accountability Research Centre.
He is survived by his wife Loesje and their two sons, Jordan and Jed. ■