News
UK PM lobbies Iran president for Nazanin's release
Wednesday 26 September 2018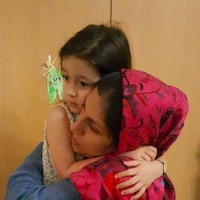 British prime minister Theresa May lobbied for the release of Nazanin Zaghari-Ratcliffe (photo) during a meeting with Iranian president Hassan Rouhani at the United Nations General Assembly in New York on Tuesday.
"She... raised our consular cases in Iran, including that of Nazanin Zaghari-Ratcliffe, before expressing her serious concern at Ms Zaghari-Ratcliffe's ongoing detention, and called for her release," May's London office added in a statement on Wednesday.
Britain is seeking the release of Zaghari-Ratcliffe, a project manager with the Thomson Reuters Foundation who was arrested in April 2016 at a Tehran airport as she headed back to Britain with her daughter after a family visit. She holds joint British and Iranian nationality.
She was jailed for five years after being convicted of plotting to overthrow Iran's clerical establishment, a charge denied by her family and the Foundation, a charity organisation that operates independently of Thomson Reuters and Reuters News.
Earlier this month, the British Foreign Office advised British-Iranian dual nationals against all but essential travel to Iran, tightening up its existing travel advice and warning it has only limited powers to support them if they are detained. ■
SOURCE