News
Red flags raised over Blackstone's Refinitiv debt risks
Saturday 15 September 2018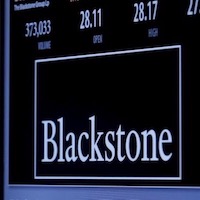 US and European investors are clamouring to buy the $13.5 billion debt helping to fund Blackstone's control of Thomson Reuters' terminals and data business, to be rebranded Refinitiv when it closes on 1 October, the Financial Times reported.
The biggest US leveraged buyout for years is for 55 per cent of the financial and risk division created out of the financial services part of Reuters acquired by the Thomson organisation ten years ago. Blackstone began marketing the debt package this week.
"Credit investors, with a myopia born of desperation, are letting the private equity firm have its way on the terms," the FT's Lex column said.
"The first red flag: The sheer volume of debt. In a transaction valued at $20bn, just over $5bn is funded with equity. The balance is comprised of loans, bonds, and preferred stock."
Another way to spot high risks is to look at the ratio of debt to profits, the FT said. That calculation is not straightforward. Refinitiv says its 2018 "adjusted" EBITDA, a cash earnings measure, comes in at $1.9 billion.
"The company argues that it should get full credit from the $650m of costs savings it hopes to realise from job cuts and the like. Even fully crediting Refinitiv for those, total debt to ebitda of more than five times is perilously steep."
The rules of what borrowers can do post-financing is another warning signal. In a low-yield world, investors cannot stop the likes of Blackstone from writing terms creating leeway to borrow more money or pay dividends. Either move would reduce the company's ability to repay debt. Covenant Review, a well-known credit research firm, said Refinitiv's definition of EBITDA was "ridiculous". It concluded that Refinitiv's covenants were too generous to Blackstone.
"All this adds up to a credit rating in the low B range, the riskier end of the high-yield spectrum," the FT said. "The blended cost of debt Refinitiv has modelled in its prospectus is a modest 6.28 per cent. Regardless, US and European investors are clamouring to buy the debt. Loan and bond funds are flush with cash to deploy. You do need to spend your days peering at a data terminal to know this could end badly."
The FT commentary followed a Reuters report on Friday that said the return of big buyouts to the leveraged finance market has "rekindled memories of the 2006 and 2007 bad old days of risky underwriting and excessive debt".
Blackstone's debt package has helped trigger the comparison because of its size and aggressive adjustments, it said. ■
SOURCE

Financial Times