News
Blackstone eyes $650 million cuts in Refinitiv's first three years
Tuesday 11 September 2018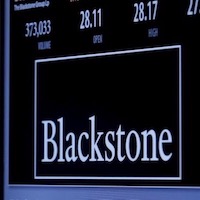 Blackstone aims to cut $650 million in costs in the first three years of its majority ownership of the former Reuters terminals and data business. Almost half will come from headcount reduction alone.
The private equity giant is heading a $20 billion purchase of a 55 per cent stake in the Thomson Reuters' financial and risk division, which will be rebranded Refinitiv when it closes the transaction on 1 October.
Some 22,000 Thomson Reuters employees are transferring to Refinitiv as part of the deal.
Projected cost-savings will be a key consideration for investors mulling the $13.5 billion-equivalent loan and high-yield bond sale financing the buyout, the largest since the 2008 financial crisis.
It is being seen as a major test of the leveraged finance markets on both sides of the Atlantic and one of the major factors investors will consider is the cost savings and how realistic is the $650 million target, analysts at credit research firm CreditSights said in a note.
"Value creation from this deal will come first and foremost from cost cutting," CreditSights said.
"We view this target ($650 million) as aggressive, though not impossible, and would push management for more color on how these cost cuts will be achieved and how progress will be communicated to investors going forward."
Blackstone's senior managing director for private equity, Martin Brand, told bankers last week that $250 million of costs would be cut in the first three months, primarily through technology savings.
Blackstone's track record and its success in cutting costs at other companies it owns will be important.
But some investors have already told International Financing Review, which is owned by Thomson Reuters and will transfer to Refinitiv, that the magnitude of the cost-savings is off-putting.
Some details have already emerged on how the cost savings, to be completed by the end of the third fiscal year after closing, will be achieved, IFR said. Almost half, or around $300 million will be from headcount reduction alone, CreditSights said.
Other savings are expected to come from the virtualisation of IT infrastructure, procurement and real estate.
More details on the company's strategy are expected to emerge over coming days as meetings are held with investors. A bond roadshow began on 5 September and continues this week. The bond is expected to price on 18 September.
The F&R business - now counted as a discontinued operation - grew revenues by two per cent in constant currency to $1.55 billion in the second quarter, Reuters reported last month.
After five years of transition at F&R, CreditSights said it was "cautiously optimistic the worst is behind Refinitiv.
"Pressure on the desktop business from headcount reduction on the sell-side and commercial price adjustments will continue," it said.
Blackstone will look to consolidate parts of the business, either with companies it owns or with competitors, CreditSights said.
Press reports emerged earlier this year that a listing or sale of fixed income trading platform Tradeweb, which is majority-owned by Thomson Reuters, was also being considered. ■
SOURCE