News
Blackstone to cut Refinitiv costs by $250 million in first three months
Saturday 8 September 2018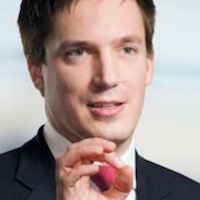 Blackstone will begin its control of Thomson Reuters' data and terminals business with $250 million of cost cutting in the first three months.
Martin Brand (photo), Blackstone's senior managing director for private equity, told bankers this week that the cuts, to be made after closure of the acquisition expected on 1 October, will be primarily through technology savings.
Blackstone is leading the purchase of 55 per cent of the financial and risk business which will be renamed Refinitiv.
Brand was speaking at a meeting with bankers to pitch loans for the purchase. It has launched a $13.5 billion-equivalent debt package, the largest buyout financing since the 2008 financial crisis and a major test of leveraged finance markets.
The package is being marketed with $650 million of cost savings from the business's reported $1.9 billion EBITDA, which is a measure of the company's income known as earnings before interest, taxes, depreciation and amortisation.
"Blackstone made a fair point that this deal has been in gestation for a long time and so they know almost down to the individual headcount what they're going to do," one portfolio manager said. "They said the bulk of cuts are going to be at the senior management level and not for example on the sales team."
Some 22,000 Thomson Reuters employees are moving to Refinitiv as part of the transaction.
David Craig, president of F&R and future CEO of Refinitiv, said at the loans meeting that much of the hard work was behind the company, as previous price reductions had now been absorbed and its restructuring was complete. ■