News
Reuters awards grants to eight photojournalists
Wednesday 16 May 2018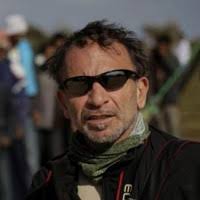 Reuters announced eight recipients of $5,000 grants as part of a programme which seeks to recruit and develop a diverse new generation of photojournalists.
Pictures they take will be distributed globally on Reuters platforms, and Yannis Behrakis (photo), senior editor, special projects, will advise them on their assignments.
"The Reuters Pictures grant program gives a rare opportunity to eight photojournalists, from diverse backgrounds and from around the world, to work with Reuters and develop their talent. I will be dedicating plenty of time to mentor each of them and help them understand in depth the needs of the industry in the digital age," he said.
"The work of our grant winners will be seen by a global audience through Reuters platforms, bringing new stories from new perspectives which might otherwise go untold."
The winning photojournalists are:
Tbilisi-based Daro Sulakauri, whose work includes a hidden narrative of the Chechen conflict.

Ekaterina Anchevskaya, who finds inspiration in her Russian homeland and its distinct culture.

Gabriel Scarlett, a student whose work so far has examined US social issues.

Alexandria-based Egyptian visual researcher and photographer Heba Khamis.

Houston-based Loren Elliott, whose recent work has focused on the US-Mexico border.

Bolivian photographer Manuel Seoane who has covered migrant communities in La Paz.

Documentary photographer Nicky Woo, who divides her time between New York and Tanzania.

Thomas Nicolon, who covers wildlife conservation and environmental issues in Central Africa.
SOURCE