News
F&R transitional costs 'shock' TRI shares
Friday 11 May 2018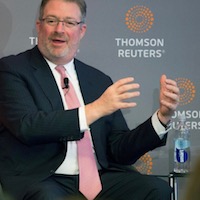 Thomson Reuters shares took a four per cent hit after the company forecast corporate costs would more than double for the year but revenue would increase only modestly.
At one point they reached their lowest level since early 2015.
Investors fretted about earnings growth after the company completes the sale of a majority stake in its largest unit, the terminals and data business known as financial and risk.
It expects $500 million to $600 million in corporate costs this year for technology investments and "right-sizing some areas of the organisation," chief financial officer Stephane Bello told analysts on a conference call after reporting first quarter earnings.
The estimate does not include F&R, which sells data and news primarily to financial customers.
Thomson Reuters agreed to sell a majority stake in F&R in January to private equity firm Blackstone. The deal is expected to close in the second half of this year.
The comparable corporate cost figure for 2017, also excluding F&R, was $244 million.
The sharp growth in expected corporate costs surprised some on Wall Street.
"I thought the transitional costs were going to be in the $50 million-and-under range," said one analyst, Doug Arthur of Huber Research Partners. "They are talking a very big number... there is a little shock value to that."
Nevertheless, he remains positive about Thomson Reuters' prospects after the F&R transaction. "I am very bullish on the deal but the bridge to get to the promised land is a little messy and the stock is reacting to that," he said.
Costs and investments over the next two years could constrain profitability, said analyst Brittany Weissman of Edward Jones.
"There's uncertainty around... what earnings growth will look like, especially over the next couple of years as TRI repositions the business," she added. "However, we were encouraged by the growth in the two largest remaining segments. Sales in the legal division were above expectations."
Thomson Reuters expects to use $1 billion to $3 billion from the proceeds of the Blackstone deal to make acquisitions in legal and accounting, but has no plans to go into new businesses, chief executive James Smith (photo) said in a Reuters interview.
He said the company will "maintain the same disciplined approach" seen over the last few years.
"But we do have our eye on a couple of interesting opportunities, and if they should play out, we would take advantage of those opportunities," he said, adding: "We'll do the right thing, and we're certainly not going to let the money burn a hole in our pocket."
Asked about the stock's 12 per cent decline since the day before the Blackstone deal was announced on 30 January, Smith said: "Investors are still getting their hands on the details of the deal as it is very complicated... How do you forecast EPS when you don't know how many 'S' there are?" EPS refers to earnings per share.
Smith, chief executive since 2012, said he expects to stay on with the remaining Thomson Reuters business after the deal closes.
He recently recovered from a medical issue - the company said it was an irregular heartbeat - that put him in hospital in mid-February.
Smith said the company was not currently planning a pay wall for news. Competitor Bloomberg announced earlier this month it would begin a metered pay wall to charge users for access to its content. ■
SOURCE