News
Thomson Reuters Foundation executive jailed in Iran 'has lost all hope'
Monday 24 October 2016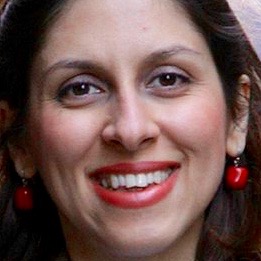 Pressure was stepped on Monday on the British government to do more to help secure the release of Thomson Reuters Foundation executive Nazanin Zaghari-Ratcliffe (photo) from jail in Iran.
An Amnesty International petition signed by 72,000 people on behalf of Zaghari-Ratcliffe and another British-Iranian dual citizen jailed in Iran was delivered to 10 Downing Street and the Foreign Office in London.
The families of Zaghari-Ratcliffe and Kamal Foroughi called on the UK government to do more to secure their release.
The petition was handed in by Zaghari-Ratcliff's husband Richard and Foroughi's son Kamran. It asked foreign secretary Boris Johnson to prioritise their cases.
More than 100 members of the two houses of the British parliament added their names to demands for Johnson to use restored ties with Iran to secure Zaghari-Ratcliffe's release.
Speaking outside Downing Street, Ratcliffe said Johnson not meeting with the two families will not have gone unnoticed by the Iranian government.
"I would not want to say it is a simple task - someone who is willing to take a mother and baby hostage - it is not an easy thing to work their way through," he added. "(But) I do think they could have made clearer public statements to say this is wrong, this needs to stop.
"Equally, they have never expressed public criticism. They have expressed public concern but that is not the same."
He said the foreign secretary not meeting the two families sends a signal to Iran and doing so would be an important one to send. "If I have noticed it the Iranians have," he added.
He revealed his wife told him in a recent phone call she has been suffering from palpitations and pains in her neck from the stress and anxiety of being locked up.
"I don't normally get that level of insight of what she is going through. You always hope you can protect your family and this is very hard to deal with," he said.
"She is not at all optimistic, she said on the phone she doesn't think she will ever come out. She has lost all hope."
Zaghari-Ratcliffe, 37, was sentenced to five years in prison last month after conviction on "national security-related" offences following a trial before a revolutionary court in Tehran.
She was arrested by the Iranian Revolutionary Guard at Tehran airport on 3 April along with her then 22-month-old daughter Gabriella as they were about to board a flight home to London after visiting her parents.
Last week the UN working group for arbitrary detention demanded that Iran release Zaghari-Ratcliffe.
Foroughi, a 77-year-old oil and gas company consultant, is serving the sixth year of an eight-year jail sentence after being convicted of espionage and possessing alcohol. He was originally detained in May 2011 and under Iranian law has long been eligible for conditional release after serving more than a third of his sentence.
Amnesty International UK's Individuals At Risk campaign manager, Kathy Voss, said: "There's been a lot of talk recently about 'thawing relations' between the UK and Iran, but these two cases lend the lie to that. It looks very much like Nazanin and Kamal are being treated like pawns by the Iranian authorities and we'd like to see the UK seriously raising its game over securing proper justice for these British nationals. Boris Johnson needs to make sure these two cases are right near the top of his in-tray. We can't let this drop." ■
SOURCE