News
Foundation executive jailed in Iran for five years
Friday 9 September 2016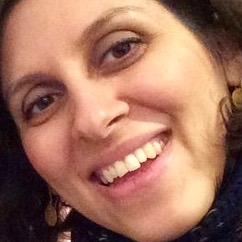 Thomson Reuters Foundation executive Nazanin Zaghari-Ratcliffe (photo), detained in Iran since April, has been jailed for five years.
Her husband Richard Ratcliffe said she had called him from prison and said: "I can't bear to be in this place any longer."
She also said she missed her two-year-old daughter Gabriella "all the time".
The child's British passport was taken after her mother's arrest as they were about to leave Tehran airport after visiting her family. The child is now staying with her grandparents in Iran.
Richard Ratcliffe said his wife phoned just before 0900 BST on Friday to tell him she had been given a five-year sentence.
She told him: "It has been horrendous. I do not want to wake up each morning and remember where I am. I want to stay in my dreams."
She added: "I have been here so long. Do you understand what it is like to be a mother kept away from her child this long?
"I have missed over a fifth of her life. What does that do to her?"
The family say there has never been clear information about what Zaghari-Ratcliffe, who has dual Iranian-British citizenship, is accused of, but Iranian officials have previously accused her of leading a "foreign-linked hostile network".
Richard Ratcliffe said he asked his wife during the phone call what the charges against her were.
He said she asked a guard who was standing next to her by the phone and the guard said: "National security charges."
He said his wife had been caught up in a "political game".
Zaghari-Ratcliffe and her lawyer were in court to hear the sentence passed down, but her husband said it was not clear whether she had been told what she was charged with.
He told the BBC it was possible that she knew but had been forbidden from telling her family.
"It remains extraordinary that Nazanin's interrogators clarify the sentence but not the crime - because there is none," he said.
The case was "shrouded in shadows and internal politics", he added.
Monique Villa, chief executive of the Foundation - the charitable arm of Thomson Reuters - said in a statement: "I am outraged that Nazanin Zaghari-Ratcliffe has been sentenced to five years imprisonment in Iran by Judge Salavati of the Revolutionary Court. This is a very serious condemnation that comes without any charges or evidence being made public.
"I have instructed the Thomson Reuters Foundation's lawyers to find out what these charges are and I know that Nazanin's family has asked the same of their lawyer in Iran.
"As Nazanin's husband Richard says, this is a 'punishment without a crime' which is contrary to the rule of law.
"I want to reiterate my total support to Nazanin and her family in these terrible circumstances and I ask the Iranian authorities to release her as soon as possible. I am convinced of her innocence and reiterate that she had no dealings with Iran whatsoever in her professional capacity at the Thomson Reuters Foundation. The Foundation does not operate in Iran directly or indirectly.
"It's now more than five months since Nazanin was arrested and her two-year-old daughter Gabriella is still detained in Iran, far from her parents, with her British passport confiscated by the Revolutionary Guard.
"We continue to work very closely with Richard, the UK Foreign Office and the British authorities to find a resolution to this terrible situation." ■
SOURCE