News
Thomson Reuters cashes in 'non-core' division for $3.55 billion
Monday 11 July 2016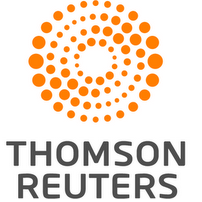 Thomson Reuters agreed to sell its intellectual property and science division for $3.55 billion in cash after deciding it was no longer core to the company.
The buyers of the legacy Thomson business two private equity firms, Onex Corp and Baring Private Equity Asia.
The Philadelphia-based unit provides intellectual property and scientific information and associated tools and services to governments, universities and companies. It employs 4,100 people in 75 offices in 40 countries. In 2014 it had revenue of about $1 billion.
Thomson Reuters said it would use $1 billion of the net proceeds to buy back shares - part of a previous $1.5 billion plan - pay down debt and invest in its other businesses.
"With the completion of this divestiture, Thomson Reuters will be even more focused on operating at the intersection of global commerce and regulation," chief executive James Smith said.
Bloomberg reported that Thomson Reuters has been consolidating how it delivers services to save money after losing market share following the financial crisis. ■
SOURCE