News
Brexit vote boosts Thomson Reuters forex flows
Friday 8 July 2016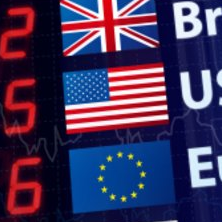 A surge in currency trading following Britain's vote to leave the European Union helped to boost average daily volumes on foreign exchange platforms run by Thomson Reuters to their highest level since March 2015.
The company said the 14 per cent jump in spot trading to $258 billion in June was almost three times the previous month's daily average.
Sharp swings in the British pound and other major currency pairs after the vote drove spot trading on Thomson Reuters platforms up 23 per cent from May to an average of $116 billion, also up seven per cent on June 2015. That was the highest daily average since a China-driven surge in trading in January.
The Thomson Reuters increase followed a similar jump in average daily volumes on rival platform EBS. ■
SOURCE