News
Thomson Reuters Foundation manager detained in Iran
Tuesday 10 May 2016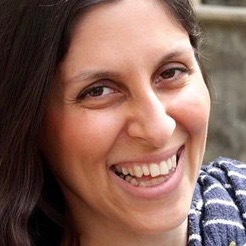 Thomson Reuters Foundation project manager Nazanin Zaghari-Ratcliffe (photo) is being held in solitary confinement in Iran after arrest during a family visit.
Zaghari-Ratcliffe, 37, was arrested by members of Iran's Revolutionary Guard at Tehran's Imam Khomeini airport in early April. She was about to board a flight to the UK with her two-year-old daughter Gabriella.
She has since been held in solitary confinement in an unknown location in the southern province of Kerman.
She has been separated from her daughter, who is solely British and does not have Iranian nationality. The child has been placed in the care of Zaghari-Ratcliffe's family in Iran and her passport confiscated. Zaghari-Ratcliffe's husband, Richard Ratcliffe, has been advised not to travel to Iran. He says he has neither seen his daughter since she went on holiday, nor spoken to his wife since her arrest.
Ratcliffe described his wife's treatment as outrageous and arbitrary. "But it is also very real. In its isolation and pressures on her, it is a cruelty that is clearly deliberate and designed. And I have been powerless to stop it. After 36 days we have gone public, against the advice of the [Foreign Office], in the hope that with others and with public pressure that might change."
She has not been allowed access to a lawyer but has informed her family in Iran that she has been under pressure to confess to unspecified crimes. The family has been told that her arrest is connected to a matter of national security.
Zaghari-Ratcliffe was born in Tehran in 1978 and moved to the UK in 2007, where she met Ratcliffe while studying. They married in Winchester in 2009, and five years later Gabriella was born in London.
Iran does not recognise dual nationality and the authorities have deep suspicion of dual-nationals. Some of them have been held on security charges in recent years.
Reuters has not had a bureau in Iran since 2012 when all staff in the country had their press accreditation suspended due to a mistake in a story about women's martial arts training.
Foundation CEO Monique Villa said: "Nazanin has been working at the Thomson Reuters Foundation for the past four years as a project coordinator in charge of grants applications and training. At the Thomson Reuters Foundation she has no professional dealings with Iran whatsoever. In fact, the Thomson Reuters Foundation has no dealings with Iran and does not operate in the country. Nazanin had travelled to Tehran in a private capacity. We are in close contact with her family. We cannot understand the reason for her detention and hope the matter will be resolved as soon as possible". ■
SOURCE