News
Online news: the Millennials take over
Wednesday 25 November 2015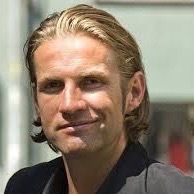 At a seminar on online news organised in Oxford on 23 November by the Reuters Institute for the Study of Journalism, the participants were the Huffington Post, Buzzfeed and Facebook.
You don't get your news from them? Well, in that case you are not a Millennial (born between the early 1980s and the early 2000s), and you may be hopelessly lost in the past.
Jimmy Maymann (photo) representing AOL and The Huffington Post described an online news business that is transforming radically from one year to the next. If as an editor you are used to targeting news at a subscribing audience, forget it. Search driven by tags and keywords is exploding - up to half the readers of the Huffington Post come through social media.
According to Facebook's Simon Milner, people on Facebook choose to read a story if a Friend shares or recommends it. Their choice of news depends on what they consider engaging and relevant, and who they interact with. Accessing news is part of community life.
Still reading your news on a PC? That's old hat. The new generation uses only mobile devices. Mobile accesses to the Huffington Post grew from 18 per cent in 2010 to 67 per cent today. At Buzzfeed, journalists write all their stories in the mobile format, says UK editor-in-chief Janine Gibson.
According to Maymann, the shift from desktop to mobile is having greater ramifications than the move from print, one problem being that only half the advertising revenue transferred to the new medium. Journalists also have to think carefully which story to place alongside another.
The next big shift, already upon us, is from text to video. The Huffington Post has just hired a team of 100 video specialists who put together video news programmes, generated by people they search out on social media.
"We have created a community. People participate online, on air. They are not being talked at, they are being talked with," said Maymann.
Is the process dumbing people down? No, he said, people spend more time on news apps than on music apps. "Millennials come for entertainment, but stay for news," adds Buzzfeed's Gibson. What about the old worries concerning concentrating of media ownership? Irrelevant in the world of new media, they all agreed.
In this discussion, Facebook was the elephant in the room (Google was not there). The others reproached Facebook with unfairly having access to their readership data without reciprocating. "What happens if the next development is Facebook News?" asked Maymann.
Ignored in the discussion were media outlets such as The Guardian, BBC or Thomson Reuters. If they got a mention it was only as "legacy". ■