News
Brokers say Hold as Thomson Reuters shares go higher
Thursday 12 March 2015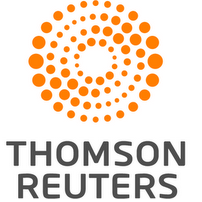 Thomson Reuters shares have been rated as Hold in the consensus recommendation of First Call Corporation, a division of Thomson Reuters.
Thomson Reuters ended Thursday's trading on the New York Stock Exchange at $40.04, an increase of 1.34 per cent, and C$50.90, 0.93 per cent higher, on the Toronto Stock Exchange.
TRI's 52-week trading range is $33.21-$41.44 in New York, C$36.86-C$51.14 in Toronto.
Separately, research firm Zacks has ranked Thomson Reuters at 3, indicating that for the short term the shares are a Hold. Twelve Wall Street analysts have given the company an average rating of 2.5. TRI has received a Hold rating based on nine analysts' latest recommendations. Strong Buy was given by three analysts.
Brokers at National Bank have downgraded their rating to Sector Perform from Outperform. ■
SOURCE