News
Thomson Reuters swings to loss in downbeat results
Wednesday 12 February 2014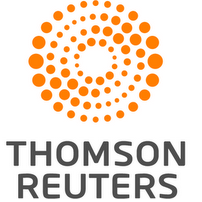 Thomson Reuters reported worse-than-expected results on Wednesday, swinging to the merged group's first loss due to what it termed "headwinds" " costs of cutting 3,000 jobs, higher taxes, reductions in spending by financial customers in Europe and Asia and a weaker legal business in Latin America.
Operating profit was slashed by half. The loss of $351 million in the last three months of 2013 compared with a profit of $352 million in the same period a year earlier. Fourth quarter revenue was 2.6 per cent lower at $3.28 billion. The company attributed the loss to a $275 million restructuring charge from previously announced job cuts, a higher tax rate, and a three per cent drop in revenue.
The news cut six per cent from the value of Thomson Reuters shares, driving them down to a four-month low of $34.43 in New York and C$37.84 in Toronto. Wall Street analysts said it would probably take another year for the business to turn around. Forbes magazine said the stock had entered into oversold territory and a bullish investor could see a sign that the recent heavy selling is in the process of exhausting itself, and begin to look for entry point opportunities on the buy side.
The board lifted its annual dividend by two cents to $1.32 per share.
Chief executive James Smith said headwinds at the end of 2013 were stronger than anticipated, and he expected financial markets to remain "challenged" for some time to come as the global banking system restructures. "It's still a volatile time everywhere," he told Reuters in an interview. "We did see more weakness in Europe and in Asia than we expected in the fourth quarter… We took significant strides to position the company to thrive in future years. Our transformation initiatives are taking hold, costs are coming out and innovation is coming forth," he added.
Revenue this year will be flat with last year's $12.5 billion, the company forecast.
"It appears that 2014 is going to be another year in the turnaround process," Piper Jaffray analyst Peter Appert said. "It's taking longer and (is) a bit more painful than anticipated."
Smith said despite the tough environment, the company's financial products were "holding their own" against competitors. "I do not believe we are losing market share," he told analysts on a conference call.
Thomson Reuters said its flagship product for financial institutions, Eikon, was installed on 123,000 desktops as of 31 January, compared with 96,000 at 30 September 2013. Some 55 per cent of the company's financial desktop revenue base had been upgraded to Eikon, according to executives.
"Ultimately it's still a tough environment," said Claudio Aspesi, an analyst with Bernstein & Co. "The scrutiny of costs is high and spending levels are subdued." In a note to investors, he said the results were disappointing, but praised the company for progress on migrating customers to Eikon. He gave the stock a Market-Perform rating.
The company has told its approximately 60,000 employees it will delay 2014 salary increases by three months to 31 July from 30 April for $40 million in savings. Smith said the move will allow the company to offer what he called more "meaningful" pay increases, compared with last year.
In addition to cutting costs, Smith said Thomson Reuters was investing in areas of growth. "We still have more work to do in order to achieve our objectives," he said. "But the trajectory is encouraging and we are making real progress." ■
SOURCE