Archives
Where is Mrs Reuter?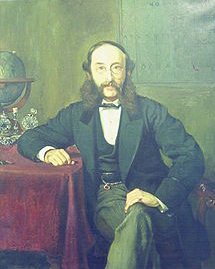 This is the story of a mystery - of a painting which the company never actually owned, although in later years it would have liked to have done so. Sadly, the painting appears to have vanished.
The artist was Rudolf Lehmann. He was born near Hamburg in 1818, three years after his fellow German Paul Julius Reuter. Having studied first at the famous Ecole des Beaux-arts in Paris and later in Rome, he settled in London in 1866. He became a British citizen and married the daughter of Scottish author and naturalist Robert Chambers.
After settling in London, Lehmann seems to have quickly found an opening.
He developed a new line, producing flattering, and well-finished portraits of famous statesmen, writers, composers, scientists and artists. All were men and women of the moment. Because everybody wanted to see what they looked like, steel-engraved copies were soon rushed into production. To some extent, Lehmann was producing the OK magazine equivalent of his day. For Reuter, the fact that he too was a naturalised German living in London meant that the "fit" between the telegraph pioneer and the successful portraitist was self-evident. The year was 1869 and this was Julius Reuter's moment.
The painting of Reuter, above right, was indeed a very good one. It was later exhibited at the Royal Academy's summer exhibition. Reuter is shown, looking prosperous, with his right hand on a table next to a globe. On the wall behind can be seen a map showing the route of the second (French) Atlantic cable which ran from Brest to the French Island of St-Pierre off Newfoundland, and from there to Cape Cod, Massachusetts. As joint-owner of the cable-operating company, Reuter directly controlled his own cable costs, which gave him a very advantageous business position. Moreover, as controller of one of the only two operating cables linking Europe and America, he wanted to make sure that everyone who saw his portrait clearly understood that. Shrinking violets got nowhere.
Baron Julius Reuter died in 1899. The portrait eventually came into the possession of his grandson Hubert, 3rd Baron de Reuter. In 1916, during the Great War, Hubert presented it to Roderick Jones, then head of Reuters. Some months later, Hubert was killed at the Battle of the Somme. Today, the original painting hangs in the boardroom of Thomson Reuters' office at 3 Times Square, New York.
It now seems pretty clear that the portrait was one half of a pair. In the 1870 Royal Academy Summer Exhibition, Lehmann is listed as exhibiting a portrait of Mrs Reuter. The painting is specifically referred to in Lehmann's memoirs. Almost certainly this is the same work referred to as "my picture" by Baroness de Reuter herself in her will. She left it to her son Herbert (Hubert's father) when she died in 1911, aged 66.
The Reuters Archive holds no picture or photograph of Ida Maria Elizabeth Clementina, wife of Paul Julius Reuter. Much is known of the early days of their marriage when she worked long hours alongside her husband, first in Aachen, Germany and then in London. But far less is known about her in later life. She outlived her husband by 12 years and spent her retirement in Chesham Place in London's affluent Belgravia district. Her obituary tells us that she led a busy social life and enjoyed spending time with her family and friends. A down-to-earth German lady, she liked playing cards and was, of all things, a particularly skilled poker player.
What could have become of her picture?
It seems virtually certain that it still existed at the time of Hubert de Reuter's death in 1916. However, it probably did not seem obvious to him that, during the subsequent century, Reuters would be pleased to have the portrait of his grandmother in addition to the well-known portrait of this grandfather. Hubert died unmarried. This meant that the Reuter family effects went to his only sister, Olga - wife of John William Edward James Douglas, 16th laird of Tilquhillie, Scotland.
This is where I suspect the problem lay. In the Britain of 1916 - half way through the Great War - a German name, such as Reuter, would not recommend itself advantageously to Olga. Furthermore, a poker-playing grandmother who had never completely forgotten her hard-pressed early days when she and her husband had worked long hours side by side, was perhaps not someone to whom she wished to draw attention.
To this day, legends linger of a large bonfire which Olga made of Reuters family material.
No subsequent sighting of Mrs Reuter's portrait has ever been recorded. ■