Archives
Reuters and the Iron Lady's rise and fall
The death of Margaret Thatcher at 87 on 8 April 2013 triggered a flood of memories by many of the Reuters people past and present who met her and reported on her years as British prime minister. Reuters' role in launching her soubriquet "The Iron Lady", her ascent to the peak of political power and decline after 11 years at 10 Downing Street as well as glimpses into aspects of her forceful personality were recalled by some of those who encountered her.
---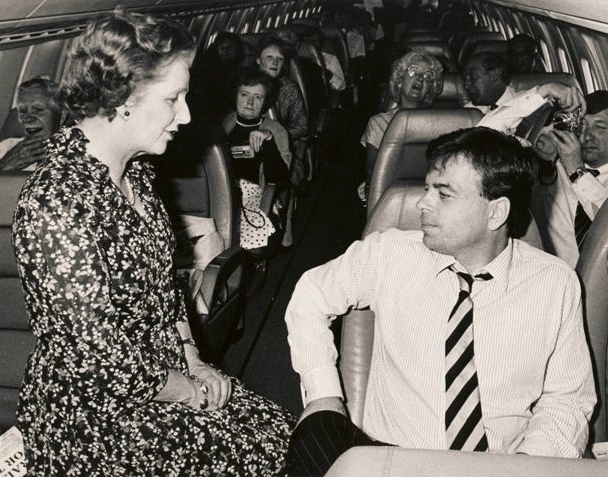 Bob Evans, Reuters bureau chief in Moscow 1975-81 and 1986-91, remembers his part in how "The Iron Lady" - a nickname she relished - gained currency.
Evans, now a correspondent in Geneva, recalled: "It was largely for lack of any other news that I launched Margaret Thatcher's favourite soubriquet 'The Iron Lady' on the world one quiet but miserably slushy Moscow winter Saturday in January 1976.
"I could hardly suspect I was playing a perhaps not insignificant role in her rise to prime minister three years later.
"Leafing through the text-heavy and highly lookalike newspapers of the day, I came across a catchy headline - and there weren't many of those in the Soviet media - in the army mouthpiece Red Star, or Krasnaya Zvezda in Russian.
"'Zheleznaya Dama Ugrozhayet,' it declared - 'The Iron Lady Wields Threats'. The story below, by reporter Yuri Gavrilov, berated the woman who was then leader of Britain's Conservative opposition for a speech warning of the danger posed by Soviet weaponry.
"'She is known by her compatriots as the Iron Lady,' Gavrilov asserted.
"As an exile Briton running Reuters' Moscow bureau, I had never heard the term applied to her and decided - in the absence of other news - that it was worth a story of my own.
"'British Tory leader Margaret Thatcher was today dubbed 'the Iron Lady' by the Soviet Defence Ministry newspaper Red Star,' my piece read. It won wide play in the British media - without credit as is so often the fate of news agency reports.
"Within a week, Thatcher - clad in scarlet - was herself demurely playing it up, clearly delighted at the term.
"'I stand before you tonight in my Red Star evening gown, my face softly made up and my fair hair gently waved, the Iron Lady of the Western world,' she told a guffawing but adoring audience at a dinner of her constituency party association.
"'Yes, I am an Iron Lady. After all, it wasn't a bad thing to be an Iron Duke,' she said in a reference to one of her heroes, the Duke of Wellington who defeated Napoleon at Waterloo.
"She didn't mind the inadvertent Soviet comparison with the great English general 'if that's how they wish to interpret my defence of values and freedoms fundamental to our way of life', she added, to rapturous applause."
Evans said the future British prime minister, or her advisers, had not been so appreciative just a few months earlier when he had written a similar story on a prominently displayed propaganda poster in Moscow denouncing her as "Mrs Thatcher, Trouble Hatcher" and portraying her as a hook-nosed "Cold War Witch".
At a reception at the British embassy in Moscow during a 1987 visit, Thatcher won some titters for a passing reference to her "iron nature".
"As she was led down the reception line, it occurred to me she might just acknowledge my role in forging her image - however unintended it was on the part of a journalist whose personal political sympathies lay elsewhere.
"She swept imperiously past, silent, with only a brief, steely nod of the head."
Evans' recollection was book-ended by David Storey, who was Reuters political correspondent in London during Thatcher's final months in power. Now an editor in Washington, he recalled the drama of her sudden political demise in November 1990.
"At some point in her 11-year rule, Margaret Thatcher adopted the royal prerogative of referring to herself in the plural – as when she announced the birth of a child to her son Mark in 1989," he wrote.
"We have become a grandmother," she declared archly, suggesting to those Britons who resented her hectoring style that their first woman prime minister may be on the verge of usurping the Queen of England.
"So when Thatcher abruptly fell from power in a few tense weeks at the end of 1990, it had all the drama of a Shakespearean tragedy. Reporters watched in stunned surprise as a historic, transformational leader was toppled by hubris and a fierce political attack by a once-loyal courtier..."
Sir Geoffrey Howe, her former chancellor of the exchequer and foreign secretary who believed deeply in European unity, was finally provoked to revolt by her dismissive rejection of integration at an EU summit in Rome. Michael Heseltine, a self-made multimillionaire who had long dreamed of the highest office, challenged her for the party leadership in a poll set that November. The critical blow came from Howe, then deputy prime minister, in his resignation speech to parliament on November 13.
"For those of us listening in the press gallery in the packed House, the only sound apart from the portly Howe's measured speech came from intakes of breath by members amazed by the attack after his decades of deference to the steely Thatcher."
The speech was couched in courteous terms - even with some cricket analogies. But its barbed thrusts condemning Thatcher's refusal to budge on Europe sliced down on her as she sat grimly on the front bench. "Underneath the mask of composure, my emotions were turbulent," she said later.
Two days after Howe's speech, which Thatcher described as "an act of bile and treachery", Heseltine challenged her for the Conservative leadership.
She failed to win outright on the first ballot, putting her control of the party in jeopardy, but vowed to go on to the second round of voting, declaring: "I fight on; I fight to win." It soon became clear, however, that the absolute control Thatcher had exercised over her cabinet colleagues for more than a decade had cracked. She was bitter. In her memoir, she described one colleague as "deserting at the first whiff of grapeshot".
Many years later, Howe summed up Thatcher's fate in his own ironic, bookish style: "The insistence on the undivided sovereignty of her own opinion dressed up as the nation's sovereignty was her own undoing."
Two other Reuters correspondents who covered Thatcher in the 1980s as political and Lobby correspondents at Westminster, Barry May and Peter Gregson, shared their own reminiscences.
May, who reported on Thatcher from 1981 to 1984 after a six-year assignment to the United States, was called on the day of Thatcher's death by former Washington colleague Roy Gutman. Gutman is now European bureau chief of the US McClatchy group of newspapers. He is based in Istanbul, not the best place to be to cover a top UK story.
May, now editor of The Baron, remembered what it was like to have a front-row seat, literally, at the best show in town - Thatcher's twice-weekly master class in the art of dominating her political enemies at prime minister's question time in the House of Commons. "From my perch in the press gallery overlooking the chamber it was like being on the edge of a bear pit where the great she-bear always wins. No other politician could match her. Her command was complete."
At 10 Downing Street, the Iron Lady was as much in control of domestic matters as she was of the country's politics. "I remember a Christmas party she gave for members of the Lobby in 1982. There she was, the small-town grocer's daughter with that famous handbag always to hand, fussing over the curtains and ordering flunkies about."
Gregson, another Washington colleague who covered Thatcher towards the end of her rule, recalled that at a meeting to discuss strengthening European central authority, French President Jacques Chirac charged Thatcher with putting her foot "firmly on the brake of Europe." She shot back, "That's rich, coming from him. He hasn't even got in the car yet."
For Sir Harold Evans, Reuters editor-at-large, his immediate and lasting memory of Thatcher - "Maggie as we called her" - was sitting next to her in the late 1960s at a dinner table as she scorched a bunch of City of London financial types. "I was astonished. She wasn't yet the Iron Lady. She wasn't in government. Labor was in power. She was an obscure back bench Conservative MP, elected only in 1959, noticed in those sexist days as much for her hats and aggressive hair style as for her passionate defense of grammar schools under threat of closure from Labor.
"What she did with the City of London men was later characterized as a 'hand-bagging.' A black Asprey bag she always carried was metaphorically wielded against people she saw as standing in the way of the greatness of Britain, as Boudica, the leader of a British tribe, wielded a lance against the Roman occupiers. I suppose that as the new national editor of The Sunday Times of London, and with normal male presumption, I had expected to lead the questioning of the ten or so big names and the table. I didn't stand a chance.
"Maggie pounded and pummeled them all by herself for an hour. I can't pretend this is verbatim but it went something like this: 'All you people are interested in is moving paper around, making money not things. What are you doing for British industry? When are you going to help business stand up to the unions?'
"They murmured, they shuffled, they were outclassed. British elections - six weeks to a vote and no paid television ads - have never been as corrupted by money as much as those in America, so she was not turning off a potential source of funding as an American candidate would fear to do. Still these were men - all men of course - who were influential and articulate and used to reverence not rebuke.
"Maggie could be seductive in private conversation one on one, more so as she matured, the strident voice of the public halls giving way to a softer, more seductive style, hand on an arm, intent eye to eye in persuasion.
"She was afraid of nobody, respecter of no convention she considered archaic. The British custom at dinner parties was always for the host to murmur 'coffee?' which was signal for 'the ladies' to leave for the powder room while the men, over cigars and port, got down to serious business. It was a small sensation, regarded in some circles as a grave breach of etiquette, when at a dinner party I attended thrown by her egregious confidante Woodrow Wyatt, Maggie stayed in her seat unabashed, uninvited, and unfazed by the arguments over the cigars - in this case by a couple of captains of industry who wanted to be part of Europe while she defiantly raised the Union Jack."
"When she became Prime Minister I was editor of The Times. We backed her a hundred per cent on trade union reforms, on holding the line on pay, especially in the public sector and on advocating more competition in the banking industry, on free trade, on resisting terrorism in Northern Ireland. I told her I thought she moved too slowly against trade union anarchy, but she bided her time and planned well. She won a famous victory against the coal miners, badly led by a firebrand who took money from Gaddafi, and it was thanks to her stalwart support of Rupert Murdoch, whom she admired as a free-booting entrepreneur, that he was able to win the battle of Wapping which ended the guerilla warfare of the print unions.
"Margaret Thatcher, whatever the missteps, will take her place in the pantheon of heros – sorry, heroines – who enlarged British freedom."
Others who met Thatcher in different circumstances included Peter Smith, formerly Reuters director of corporate compliance, and Michael Nelson, former general manager.
Smith, writing in The Times' Lives remembered section on 11 April, recalled:
"The former Prime Minister never turned down an opportunity anywhere to do her bit for Britain well beyond her term in office. In 1996 during a secondment from Reuters to the Department of Trade & Industry as an export promoter I was chairing a conference in Salt Lake City, Utah, developing interest for British firms in the information technology sector in North America. Lady Thatcher was addressing a capacity university audience in the same week and readily agreed to introduce our conference.
"We met briefly before the event and discussed the then relatively unknown phenomenon of the internet.
"She needed no briefing. 'One must look very carefully at this,' she said. 'It is already a matter of concern that so much of its content is pornographic.'
"I demurred at the prospect of too much control. 'But of course there must be controls,' she said. Her opening remarks added more value to the promotion of Britain's IT expertise in Utah in 15 minutes than we could have achieved in several such two-day conferences if she had not been there."
Michael Nelson, also in The Times, wrote on 12 April:
"My experience with Margaret Thatcher was very different from that of Peter Smith (Lives remembered, April 11) when she helped him to promote Britain's IT expertise. I met her shortly after the installation on February 11, 1983 of the Reuter Monitor computer terminal in 10 Downing Street. 'Your service is very expensive,' she complained. 'Why do you not give it to us free as a public service?' I suggested that that would not fit well with the entrepreneurship which she was promoting. She was not pleased."
PHOTO: Brian Mooney, chief correspondent UK & Ireland in the 1980s, flying with Margaret Thatcher on Concorde from London to Vancouver in 1986. "I was trapped in my seat as she briefed Reuters on her stand against South African sanctions - a memorable and rather drawn out encounter at supersonic speed," he recalled. ■