Archives
Honours and the independence of Reuters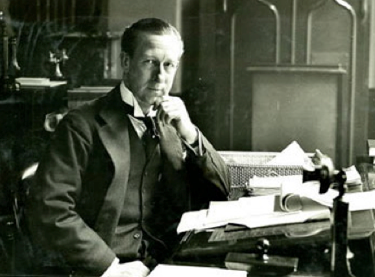 Roderick Jones, general manager, managing director and chairman 1915-1941, Christopher Chancellor, general manager 1944-1959, and Peter Job, chief executive 1991-2001, were among the few executives of Reuters who accepted high honours from British royalty. Each was dubbed a knight.
During World War I Jones (photo), was simultaneously head of the Department of Propaganda at the British government's Ministry of Information. He was knighted for that work.
Chancellor, credited with keeping Reuters running under extremely difficult circumstances during World War II, was knighted in 1951 when the agency celebrated its centenary.
Job accepted a knighthood on his retirement in 2001.
George Cromarty Bloom, manager, Comtelburo, 1958-1960, who was general manager of the Press Association 1961-1975, accepted a CBE in 1974.
Others who held high rank at Reuters made known their rejection of any honour, were it to be offered. Among them were Gerald Long, general manager and managing director 1963-1981, Glen Renfrew, chief executive 1981-1991, and James Lees-Milne, secretary to the chairman 1935-1936.
David Chipp, editor 1968-1969, who went on to become editor-in-chief of the Press Association, said he had turned down a CBE - the rank immediately below knighthood - in the belief that journalists should be seen to be independent, owing nothing to any authority.
Lees-Milne, who became a diarist and author, was offered a CBE in 1993, half a century after he left Reuters, but turned it down. This is revealed in a hitherto secret list of people who snubbed honours from Queen Elizabeth from 1951 to 1999 and who have since died. It was released by the cabinet office and published by The Daily Telegraph in January 2012. ■