Archives
Farewell to Fleet Street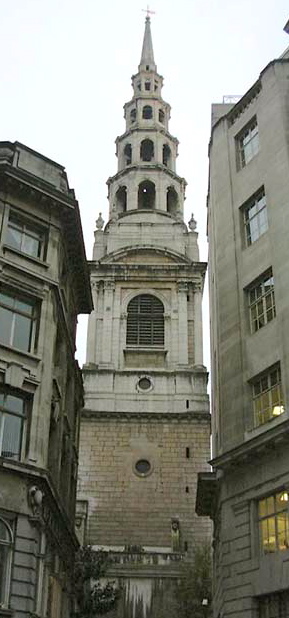 When Reuters left Fleet Street in 2005 and relocated to Canary Wharf in London's Docklands a service of thanksgiving was held at St Bride's, the journalists' church adjacent to 85 (photo), company headquarters since 1939.
The Rector of St Bride's, Canon David Meara, officiated at the 15 June 2005 Farewell to Fleet Street service, assisted by Rabbi Helen Freeman of the West London Synagogue. Rupert Murdoch, chairman and chief executive of The News Corporation and a former director of Reuters, read the lesson. Tom Glocer, chief executive of Reuters, and Alexander Chancellor, former correspondent, gave addresses.
Marguerite, Baroness de Reuter attended as special guest on what was to be her last visit to London from her home in Monaco. The last family link with the company's founder Paul Julius Reuter, the widow of the Baron's grandson died on 25 January 2009 aged 96. The Reuter Barony, a German title conferred in 1871, died with her.
The St Bride's choir sang In My Life by John Lennon and Paul McCartney.
Reuters people past and present who attended the service:
Margaret Alliston, Allan Barker, Barry Barnett, Colin Bickler, Janice Buswell, David Chipp, Ronald Clarke, Steve Clarke, Jack Clayworth, Monica Cook, Graham Crickett, Diana Drayton, Francois Duriaud, John Entwisle, Peter Fanning, Lawton Fitt, Niall FitzGerald, John Freeman, Jan Coos Geesink, Ronald Gladman, Howard Goller, Roger Gough, David Grigson, Izabel Grindal, Sir Christopher Hogg, Julie Holland, Peter Holland, Paul Holmes, Ray Hubbard, Humphrey Hudson, Chris Inwood, Derek Jameson, Roger Jeal, Ken Jones, Joe Joseph, John Kampfner, Anthony Keating, Adam Kellett-Long, Brian Lawley, Michael Lawrence, Geert Linnebank, Henry Manisty, Patrick Mannix, Maureen Marlowe, Rosemary Martin, Barry May, Ali Mehravari, Bernard Melunsky, Ernesto Mendoza, Ingrid Montbazet, Peter Mosley, Michael Nelson, David Nicholson, Ibrahim Noori, Michael O'Brien, Bill Ogston, Dick Olver, Patrick O'Sullivan, John Owen-Davies, Manfred Pagel, John Parcell, Ken Pratt, John Ransom, Gerry Ratzin, Gary Regenstreif, Daphne Renfrew, Michael Reupke, David Rogers, John Rogers, Len Santorelli, Mike Sayers, David Sells, Alex Smith, Peter Smith, Stephen Somerville, Graham Stewart, Michael Stott, Peter Thomas, David Ure, Monique Villa, Andrew Waller, Jacqueline Waller, Philip Wardle, Geoffrey Weetman, Jo Weir, Anthony Williams, John Witherow, Mark Wood. ■