People
The Forsyth confession
Sunday 30 August 2015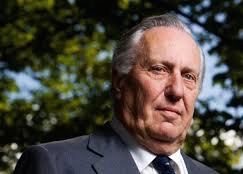 Frederick Forsyth (photo), former Reuters correspondent turned writer of best-selling thrillers that made him a multi-millionaire, has admitted he was a spy.
He disclosed that he was an agent for Britain's Secret Intelligence Service, MI6, for more than 20 years.
Forsyth joined Reuters at the age of 23 in December 1961 and was assigned to France and East Germany. He left in 1965 for a job with the BBC.
Fame followed with the 1971 publication of his first thriller, The Day of the Jackal, about a plot to assassinate French President Charles de Gaulle. It became a successful film, as did others of his books.
His espionage activities began earlier, he writes in his autobiography The Outsider: My Life In Intrigue which is due to be published in September.
Forsyth, who turned 77 last week, has long been suspected of links to British intelligence.
He told The Sunday Times: "It is 55, 60 years later... where's the harm?"
"There have been memoirs written, highly secret minutes have been published. There's no East Germany, no Stasi, no KGB, no Soviet Union," he said.
His autobiography reveals he was first approached to work for British Intelligence following his coverage for the BBC of the Biafra conflict in Nigeria in the late 1960s.
MI6 needed "an asset deep inside the Biafran enclave... 'someone on the ground'. When I left for the return to the rainforest, [they] had one," Forsyth writes.
He later took up missions to Rhodesia, South Africa and, at the height of the Cold War, East Germany.
"It was normally a phone call: 'can we meet - why don't you join us for lunch? We have a little problem - would you mind slipping into East Germany and picking something up for us?'" the author told Sky News.
"Back then a lot of volunteers did things for the old country - it wasn't regarded as weird".
"There was no fee, no reward, you just do it. It was a different attitude back then."
As a kind of pay-off for his services, however, he said MI6 did agree and approve passages in some of his later novels.
"I had a number I could ring... I'd ask, 'Is it OK?'. They would check with superiors." ■