People
Memorial plaque honours Reuters cameraman Taras Protsyuk
Friday 19 January 2018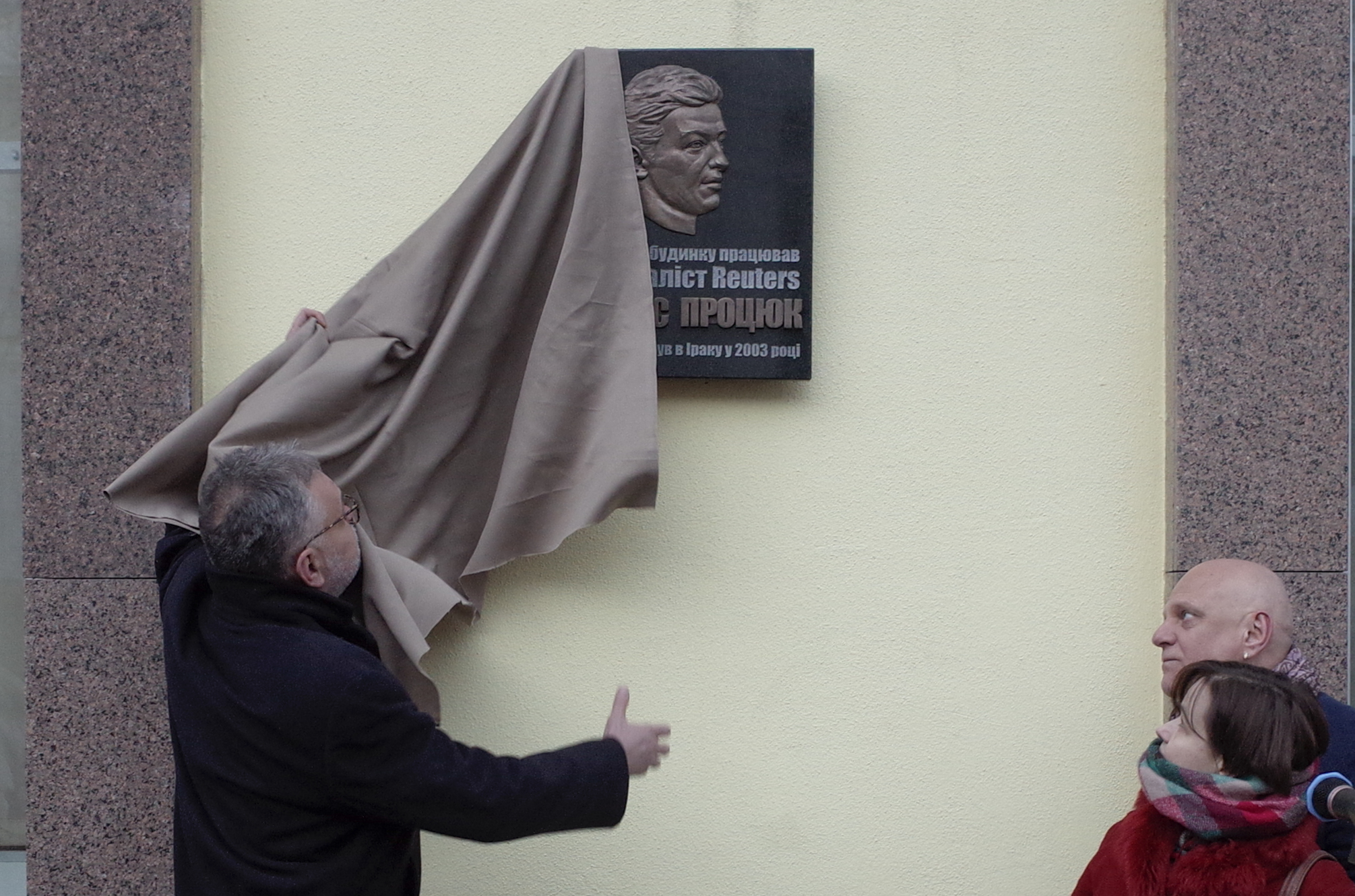 A plaque was unveiled in Kiev on Tuesday in memory of Taras Protsyuk, a Reuters cameraman killed in 2003 by a US tank shell at the Hotel Palestine in Baghdad.
The ceremony was attended by his wife Lidia as well as by friends and former colleagues.
The plaque was unveiled on what would have been his 50th birthday.
Protsyuk had been filming the advance of American tanks into the Iraqi capital. His colleagues Samia Nakhoul, Paul Pasquale and Faleh Kheiber were severely injured. On the floor below, Spanish cameraman Jose Couso of Telecinco was hit by debris and died in hospital.
"The main thing about Taras is that he was not only covering wars and conflicts, he was living through his stories," said Sergiy Karazy, a close friend and colleague from the Kiev bureau. "Through the years of covering conflict, death, blood and human misery, he didn't become cynical or indifferent."
Others shared their recollections of him, his skill and courage as a camera operator in war zones, and his warmth and positive outlook on life. A message was read out from Samia Nakhoul who wrote:
"My thoughts will be with his family and all of you. He was such a special, warm, amiable person and an amazing colleague with a constant smile on his face. I recall the evening before the Americans pushed into Baghdad he told me that he hoped it will be over soon and that he can't wait to get back home to be with his family and his young son and how much he had missed him."
A much loved figure, thousands of people including politicians and public figures turned out for Protsyuk's funeral in Kiev. The plaque hangs on the exterior wall of the former Reuters office on a busy street in the centre of town, where hundreds of thousands of people will see it, and remember Taras, said Matthias Williams, chief correspondent, Ukraine, Belarus and Moldova.
---
PHOTO: Viktor Khomenko, a friend of Taras Protsyuk and the artist behind the project, unveils the plaque, watched by Protsyuk's widow, Lidia.
---