People
Former Reuters women visit the cradle of wine
Friday 1 June 2018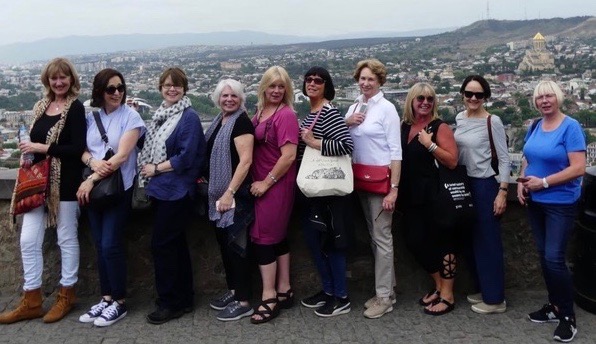 Wine, wine and more wine was enjoyed by those on my latest tour to Georgia. At the crossroads of Europe and Asia, surrounded by the impressive Caucasian mountains, this small country is also the cradle of wine - wine residue was discovered on the inner surface of an 8,000-year-old Georgian ceramic jar.
Our group was united by a love of adventure, great food, wonderful wine, and for eight of the 11 women a Reuters career background. We learned to cook local dishes, had multiple wine tastings, saw beautiful architecture and nature, heard Georgian polyphonic singing and even climbed a mountain to visit a stunning monastery (or went by 4x4). And the Reuters connections went even further - one of our local guides was the partner of a former Reuters cameraman/producer - David (Little Dato) Mikautadze.
Anyone interested in future trips to Uzbekistan or Georgia should contact me (jolinweir@hotmail.com). We are working with local travel agents and former Reuters people in each country. Men are also welcome!
---
Photo (L-R): Ingrid Montbazet, Abir Awad (BBC), Jane Collins, Maureen Marlowe, Tina Strong (non Reuters), Caroline Lacey, Carolyn Greenwood (non Reuters), Jo Weir, Tracey Steggal, Tracy Hart. Missing: Masha Filatova. ■