People
Elizabeth Hawley, grande dame of the Himalayas
Thursday 29 April 2010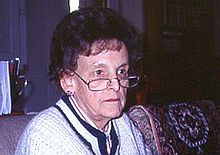 Elizabeth Hawley (photo), grande dame of the Himalayas, has never climbed a mountain in her life. Yet over half a century she has become the foremost authority on climbing in Nepal, compiled a meticulously maintained archive unequalled anywhere in the world and become the final arbiter on Himalayan climbing disputes.
Born in Chicago, Hawley became Reuters' stringer in Kathmandu in 1962 after working as an editorial researcher with Fortune magazine in New York and then moving to Nepal as part-time correspondent for Time-Life.
Old Delhi hands, including former bureau chief Gerry Ratzin and correspondent John Rogers, remember Hawley's help and expertise on Everest and other mountaineering stories.
Now 86, she has interviewed almost every climbing team that has passed through the Nepalese capital, usually both before and after their expeditions. Her intensely rigorous examination of returning mountaineers often involves as much instinct as science. "Sometimes what they say is a bit odd. Others you just don't believe," she told The Times.
The latest dispute involves a South Korean who claims to have become the first woman to climb all 14 of the world's peaks over 8,000 metres, known to mountaineers as the eight-thousanders. She reached the summit of Mt Annapurna this week, only a few days after her closest rival accused her of cheating. A live broadcast on South Korean television showed Oh Eun Sun crawling on all fours and planting her national flag on the 8,091 metre peak after a 13-hour climb through high winds without oxygen.
Her claim to the title has been challenged by her closest rival, Edurne Pasaban of Spain, who is racing towards her 14th peak - Shishapangma in Tibet - and hopes to climb it in the next fortnight. Pasaban told The Times last week that Oh's sherpas had told her that the South Korean did not reach the highest point on Kangchenjunga, the world's third highest peak, last year.
Hawley says she has recorded Oh's Kangchenjunga ascent as "disputed" pending an investigation, including interviews with her three sherpas. "I think this is a great achievement and I'm looking forward to meeting Ms Oh and hearing what she has to say about Annapurna and of course about Kanchenjunga," Hawley said.
Unmarried and intensely private, Hawley says of her life among the mountains and the mountaineers: "I came to Nepal. I never planned to stay. I just never left."
She is executive officer of the Himalayan Trust, Sir Edmund Hillary's aid organisation which supports health, educational, cultural and re-forestation activities in the Everest region of Nepal, and also New Zealand's honorary consul in Kathmandu.
---
Postscript: In August 2010, Oh Eun Sun was stripped of her title as the first woman to scale all 14 of the world's highest peaks. The Korean Alpine Federation said her evidence that she had completed the challenge was unreliable and she had probably failed to reach the top of Kanchenjunga. Hawley said it may have been a genuine mistake rather than deliberate cheating that kept Oh from the peak.