People
Deborah Zabarenko thanks 'the absolute best' as she departs
Friday 13 December 2013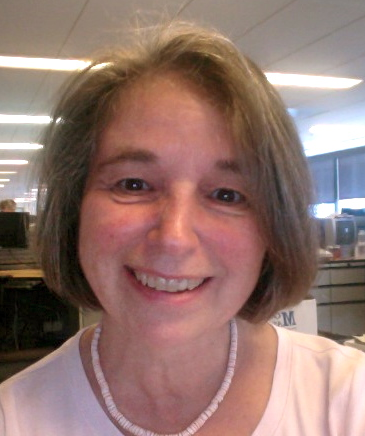 Deborah Zabarenko, environment correspondent and union leader in the United States, worked her last shift on Friday after 27 years with Reuters, thanking colleagues around the world as "the absolute best in this business".
Zabarenko joined Reuters in 1986 after nearly six years with The Associated Press. Beginning in New York and then moving to Washington, "I was hired as a general assignment reporter in a town where anybody with a lick of ambition had a specific beat. Stories nobody else wanted to cover fell to me, including the Iran-Contra trials of Oliver North and John Poindexter, the cocaine case against Washington Mayor Marion Barry, the first Gulf War, the U.S. abortion debate, astronomy and the U.S. space program, Middle East peace talks, the Clinton-Lewinsky scandal, some presidential campaigns and the environment and climate change."
While she covered some big stories, she feels that somehow it was the little ones that resonated most. "When I was writing about NASA, and the first married couple of astronauts flew on a shuttle mission, a story I wrote about the possibility of outer-space sex was the one folks remembered. In Saudi Arabia, I wrote about the 'I-am-not-a-whore' letter women journalists were required to carry when they traveled around the kingdom unescorted by a male relative, and I still kick myself that I didn't interview the grunt in a forward U.S. base who was so proud of his scorpion collection. When I went to Antarctica, there was plenty of serious science, but the story that played around the globe was an account of the "300 Club," whose initiation rite was a near-naked run from the base sauna to the South Pole, hitting all 24 time zones wearing nothing but snow boots and an optional neck gaiter."
Zabarenko was active in The Newspaper Guild of New York's unit at Reuters since 2000, becoming unit chair in 2007. "I served two three-year terms in this job, helping negotiate a contract for U.S. members. The company wanted to settle the deal for $1 million; the final settlement, including annual lump sump payments to members on the payroll for the contract's three-year run, was more like $11.6 million. I'm going to count that in the 'win' column."
The next years were marked by what she called "the absolutely toxic PIP [Performance Improvement Plan] targeting of Guild members; unwarranted discipline of Guild members followed" after PIPs as used by Thomson Reuters were found to have violated the contract.
"Representing union members in the United States and helping where I could with other colleagues around the Reuters world has been some of the most satisfying work of my life. I'll miss the place, but it's time to go."
In her farewell message, Zabarenko said: "With so many people leaving Reuters in the last few weeks, we've all become a bit jaded about these goodbye notes, so I'll make mine brief," she said.
"First, a big thanks to my colleagues around the world. You are the absolute best in this business. It's been an honor to be among you for so long.
"I'm also deeply grateful to those I've tried to help in my job as union leader, in the United States and elsewhere in the Reuters universe. I appreciate those who've let me know they benefited from it.
"Finally, to some who may have seen me as an irritant, this is your lucky day: my last working shift at Reuters after more than 27 years. I'll be on the payroll, and on TR email, until December 31." ■