People
Cy Fox and Wyndham Lewis: One man's obsession at the vortex
Monday 29 March 2010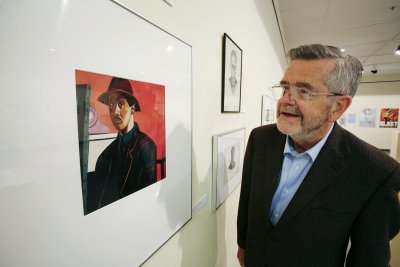 Obsession is not too strong a word to describe the devotion of a half-century of research and study by Cy Fox (photo) on Wyndham Lewis, the British modernist writer and artist.
Fox, former correspondent and chief sub-editor, amassed the world's most comprehensive collection of Lewisiana and has donated it to the library at the University of Victoria, British Columbia, where it is held in a special collections vault.
"I was seized by this character and he has never let go," Fox said. "He's still there up on the bookcase, ready to start talking. As soon as I open the page I hear that voice ready to bark out at you in the most spirited fashion. Very amusing, too. Entertaining," he told an interviewer.
"Very outspoken. Very honest. Direct. Exciting in the extreme."
Born in Newfoundland, Fox, now 78, joined Reuters in November 1974 after years of work with North American wires, first the Associated Press and then the Canadian Press. He took early retirement in December 1986.
When he parted with what he described as his life's only legacy and the movers hauled away the last box from his home in Toronto Fox was bereft. "It left me limp. A huge void. A huge gap." He found solace in the knowledge that he would see it all again and moved to Victoria to be near the collection. In 2009 the university mounted an exhibition called The Lion and the Fox.
Lewis - an early photograph and one of his best-known self-portraits are shown at right - helped found the short-lived World War I era art movement of geometric abstraction called Vorticism, which grew out of Cubism and Futurism and featured machine-like forms. He also helped launch the literary art magazine BLAST, copies of which are now rare.
His 1931 book Hitler, written after he had spent time in Germany watching the rise of national socialism, presented the future führer as "a man of peace". The book tarred Lewis' reputation. Twice he attempted to remedy his mistaken judgment: he wrote an attack on anti-semitism and in 1939 again back-tracked on his earlier thoughts about Hitler, but the damage had been done.
"I could tell he was not a likeable person, he was forthright and aggressive, and he always had his say and never cared what anybody thought of him," said Fox. "But I began collecting almost from the beginning. Many of his books had been pulped, many had small printings, and many had simply disappeared from the market.
"In New York, I would scour the used bookstores on Fourth Avenue and I would find his books going for a song. Once I found six copies of Filibusters in Barbary (a travel book that vanished from bookshops because of fears over libel) and I bought all six for $20.
"I bought Men Without Art (a book that criticises Hemingway, Faulkner, Eliot and Woolf, among others) in Foyles in London for £5 - it'll be worth a lot more now. In a bookshop in Rome, I found a first edition of The Vulgar Streak (a tragic novel set in pre-war Europe) with a dust jacket. In those days you had to march around to find books and I met many oddball book dealers along the way. In those days, the prices for Lewis' books were low just like his art."
Fox's collection eventually reached around 900 items - books, art, magazine clippings, tape recording, correspondence and other ephemera. He has no idea what it's worth. Fox's work as a journalist took him around the world and the collection went with him in 56 boxes. He estimates it crossed the Atlantic three or four times.
He sought out fellow supporters of Lewis, who died in 1957 aged 74, and helped to found the The Wyndham Lewis Society. He also met Lewis' widow, Gladys, who lived her final years in a nursing home in Torquay, Devon.
"I got to know her well," he said. "She was friendly and devoted to Lewis to the end. She had been Lewis' main model for his paintings and even in her later years you could see why Lewis painted her again and again."
Fox has no regret about parting with his collection. "I'm not sad. It's a relief that it's in a good home." He has completed a memoir recounting his own "jubilant adventures" as a journalist. A dozen copies of the book, New World, Old World: Bridging the North Atlantic, were published for the exhibition, the cover illustrated with a Lewis painting of boats on the Grand Banks. Lewis was said to have been born to his English mother on his American father's yacht off Nova Scotia in 1882.