People
Coping with dementia
Friday 15 December 2017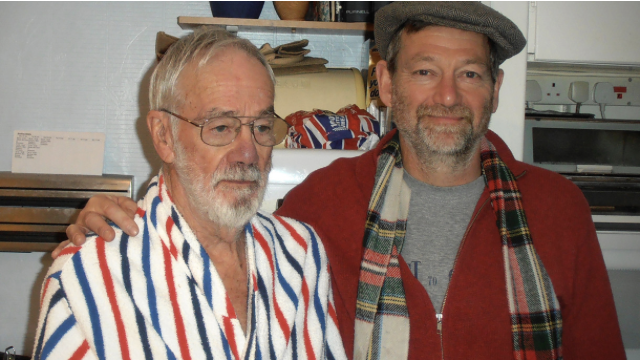 Former Reuters correspondent Guy Dinmore has written a candid and moving account of the frustrations, emotional turmoil and moments of joy that formed his "longest goodbye" as his father descended into dementia, and death.
It is part of the Financial Times seasonal appeal for Alzheimer's Research UK, which is raising funds for pioneering research to develop new treatments for dementia, a disease without a cure as yet. Alzheimer's disease is the most common cause of dementia.
Dinmore worked for Reuters for 16 years, with postings in London, Vienna, Warsaw, Beijing, Hong Kong and Nicosia covering the Middle East and Africa. Then he moved to the FT, working in Bangkok, Belgrade, Rome, Tehran and Washington. Recently he was with the Myanmar Times in Yangon and is now a freelance reporter and editor.
The World Alzheimer Report 2015, led by King's College London, estimates that someone in the world develops dementia every 3.2 seconds.
"If global dementia care were a country, it would be the 18th largest economy in the world," the report states. Dementia overtook heart disease as the leading cause of death in the UK in 2015. It may well be underestimated, Dinmore wrote.
An estimated 850,000 people in the UK live with dementia, a number that the Alzheimer's Society says may climb to one million by 2025 as the population ages.
As his father Pete, a former doctor, deteriorated, Dinmore returned from abroad and move into the family home in Warwickshire.
He had to find a way to cope with his father's "increasingly erratic and severely testing behaviour and obsessions".
"Although he rarely recognised me as his son I am convinced he saw me as someone comfortingly familiar. It turned out to be the last year of his life, and I kept a diary of our time together as we both entered unfamiliar emotional and mental territory."
While his mind was failing, Pete remained surprisingly strong in body.
Between such episodes when he thought he was flying with the birds, back in the army or waiting for a train in the living room, Pete also had moments of great lucidity. Sometimes they were calming, but other times devastating.
"'Am I going dotty or are you?' he asks me in the Admiral Nelson over a beer. Dodging the question, I mention his time as an army doctor with the Gurkhas in the 1950s and his vivid memories of those days.
"'I don't know. It seems as if I just regained my personality. I am pretty sure of one thing.'
"'Really, what?' I ask, clutching at straws.
"'I pinched someone's coat... Are you writing all this down? The day I went bonkers? What do I remember? Not a lot. All a blur. Blame it on the war perhaps. I think I went to war. I just don't know what I am doing. I seem to have a nervous breakdown the wrong way round. I feel sort of free and comfortable and unworried. It is certainly good beer. But will I be anxious later? Something has done me good.'"
Dinmore continued: "As summer turned to autumn and the approach of winter, moments of contentment and sometimes happy lucidity dwindled. 'Sundowners', well documented moments of confusion that thrive at dusk, became more threatening. Pete's bouts of melancholy and confused desperation grew more frequent. He seemed to be lurching downhill in bumpy stages, with intervals or plateaux that became ever shorter. And he knew it, however hard I tried to persuade him otherwise.
"'I think there's been a gap in my life, between what I was doing and what I should be doing, a blank space. I seem to have lost a lot of my memory,' he says one evening over dinner, virtually in tears.
"'I really must keep dark black bits of information. I need a long walk. I cannot stand this nothingness... Death is the only way out but I won't take it.'"
Pete moves into a care home, and on day four says: "When you slow down, death's knocking at the door. Best to know it rather than it creep up on you." And how is the care home? "Second best to death."
Nine months later, he died. He was with his wife of 50 years, Penney, who had also moved into the home.
---
PHOTO: Pete (L) and Guy Dinmore (R).
---
You can support the FT's appeal here. If you donate to Alzheimer's Research UK through the FT's Seasonal Appeal, Goldman Sachs will match it up to a total of £300,000. ■