People
Caution at 'distant editors' and 'prize-committees'
Wednesday 3 July 2019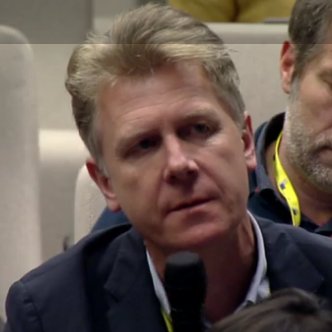 Brussels bureau chief Alastair Macdonald (photo) has signed off after almost three decades with Reuters with a caution over "distant editors" and "prize-committees of fellow hacks".
He and his partner Catherine are now working to bring positive news to children aged eight to 11.
"We hope to balance the negative and dispiriting view of the world that we journalists too often paint in our efforts to alert people to what needs fixing," he told colleagues.
Looking back to 1 July 1990 when he first logged in at 85 Fleet Street, "I am rather like a dazed character in some 19th-century novel whose fogged brain is playing host to a jostling crowd of fondly remembered faces, smiling. Mostly.
"Sure, my 29 years with the Baron gave me that front-row seat at the theatre of history - though there was also much craning of neck, peering round pillars or sitting offstage in stuffy rooms, obliged to watch the great folk and their doings on CCTV."
Macdonald said he trusts "you will go on using your uniquely global reach, diversity of talent and cultures and your open minds to see that Reuters goes on adapting to stay the leader in world news.
"Here's wishing you confidence in your teamwork and faith in your expertise and judgment of what the world needs to know. Trust in that, rather than what may please distant editors next year. Let smart contacts and customers be your judges, not prize-committees of fellow hacks in one country or another."
Europe, Middle East and Africa regional editor Simon Robinson said Macdonald's experience, dedication to the story, and generosity in nurturing talent will be greatly missed.
"So too will his sharp eye for political spin, an attribute which has served him well in recent years in European politics," he told colleagues. "It is a skill born of experience. Alastair joined Reuters from Euromoney in 1990 as a capital markets correspondent in London. By the following year he was in Paris, having embarked on a series of postings that saw him serve variously as Bureau Chief for Israel and the Palestinian Territories, Bureau Chief for Iraq, Chief Political Correspondent for Germany, Chief Economics Correspondent for France, and Correspondent in Russia and the CIS. He was an Editor-in-Charge on the World Desk in London and later had a stint as a roving Top News writer which saw him report from Libya, Egypt and Ukraine. Whether reporting from the West Bank on scepticism over peace negotiations, from The Hague on Milosevic's war crimes trial, from Bonn on climate change talks, or from Baghdad on deadly strikes against U.S. forces, Alastair always ensured we were fast and accurate, and his flair for writing brought to life the stories he covered for readers around the world."  ■