News
Reuters boosts use of AI in financial news
Wednesday 31 August 2022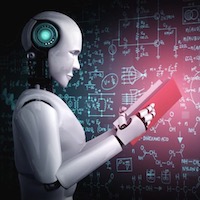 Thomson Reuters has acquired a small real time financial news service powered by artificial intelligence and will integrate it into Reuters News.
Matthew Keen, Reuters finance chief who is acting as interim president until US media executive Paul Bascobert takes over on 19 September, told staff that PLX AI provides market-moving breaking news and insight about 1,600 US and European companies using "natural language processing engines".
Its output includes surprise earnings, outlook changes, mergers and acquisitions, important orders or management decisions.
PLX AI is a Danish business that has a significant partnership with LSEG Refinitiv, formerly Thomson Reuters terminals and data division, and is available exclusively through Refinitiv products.
"The company is small - there are just three PLX employees joining Reuters - but it punches way above its weight," Keen said.
"As you know, Reuters is committed to delivering the fastest, most reliable financial news service in the world. This acquisition supports our financial text reporting and our impressive track record in speed wins. We will also assess where we could scale or extend PLX technology into other fields to enhance our formidable newsroom and support our journalists." ■