News
Obituary: David Skinner
Sunday 14 August 2022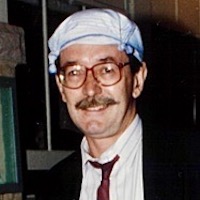 David Skinner, whose commodities expertise took him to senior editorial positions in London, Kuala Lumpur, Hong Kong and Sydney and whose wit, dry humour and kindness earned him friends everywhere, died on 31 July after a fall at his home south of Sydney. He was 81.
David - pictured at a beach-themed editorial Christmas party in Sydney in the early 1990s - was known affectionately as "The Captain", Ted Kerr writes.
He spent his early years in Papua New Guinea, where his father was a well-known official with the Australian administration for 35 years, After schooling in Queensland, he began his journalism career at The Daily Telegraph in Sydney before moving on to The Sydney Morning Herald, where he made a name for himself as an expert on gold during the heady days of Australia's first mining boom.
He joined Reuters in London in the 1970s and went on to become manager, Malaysia, with Reg Gratton as his bureau chief. After another stint in London (and a short break in the early 1980s while he worked for The Australian Associated Press), David served as deputy bureau chief Australia (on two separate occasions) and deputy head of the Asia economic news desk in Hong Kong. He retired in Sydney in 2001.
Michael Byrnes, a colleague of David both at Reuters and when they worked in Sydney newspapers, recalls how he got his nickname: David and another young reporter shared a house in Woolloomooloo that was well-known as a meeting, drinking and party house for many up-and-coming finance journey of the time.
"One night during a massive storm the old terrace house sprang a leak and rainwater began to course through parts of the house. Even in those days Skinner was well-known for wearing shiny black boots just about everywhere he went. The boots of the day were swept up by the flood and went sailing through the back door. (His housemate) said something like: 'Ahoy there, my Captain, your boots are sailing away.' The name stuck, and a perfect nickname it was for the reserved but internally playful, mumbling dry wit commodities guru that Skinner was for just about all of his life."
Jason Szep, now international political investigations editor at Reuters in Washington, worked with David as a reporter in Sydney in the 1990s. "I'll always remember the way he kept his hands over his keyboard as he scanned stories or misspelled words and misplaced commas. Sometimes he'd move a finger in the air like a pianist about to perform at a concert."
The Captain never learned to touch-type, attacking his keyboard with two fingers, often with a cigarette - unlit in later years - poking out from under his trademark moustache ("helps to keep the flies out"). The story is told about a tech in Kuala Lumpur who had been called in to fix a faulty keyboard - and found it full of ash.
David was, as former Sydney desker Paula Hannaford recalls, "a grammar zealot with a rich vocabulary; he embodied the best of the Reuters style, discipline and tradition."
He will also be remembered in Australia as the self-described "friendly quizmaster" who ran the Reuters Friday afternoon trivia quiz for traders on the Reuters Terminal. The whole market would come to a halt for a few minutes while he posted his questions - often including one designed to test the most serious rock 'n' roll aficionado. David was a big Frank Zappa fan. A reporter would deliver a bottle of bubbly to the winner - a sure way of getting access to trading rooms.
Along with his museum quality collection of Papua New Guinea bows and arrows, David's passion was traditional archery. And it seems he didn't consider the sport to be necessarily an outdoor one judging by the state of the inside of the door of his 1990s Hong Kong apartment.
Reuters veteran Brian Timms, who worked with David in Australia, remembers him as "one of the most tenacious Reuters Econ journalists around. God's news agency will greatly benefit."
David and his wife Wendy moved to Moss Vale, in the Southern Highlands of New South Wales, after his retirement. He is survived by her, as well as by his children Eliza, Sam and Zoe. Their mother, David's former wife Dawn, predeceased him.
A memorial service will be held on 10 September. ■