News
Obituary: Charles Aldinger
Friday 1 July 2022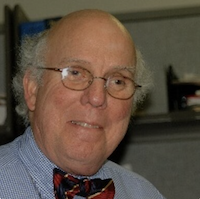 Charles "Charlie" Aldinger (photo), a Reuters correspondent who rose to become the dean of the Pentagon press corps, has died age 84 after a storied career chronicling US military actions worldwide.
He died in hospice at home in Washington on Monday following hospitalisation with heart problems, said Meg Carnes, Aldinger's wife.
"In his final days. he asked me to remind him of the names of the two countries looking to join NATO," she emailed. "Always the reporter!", Jim Wolf writes.
Aldinger covered the Pentagon, wars and weapons for Reuters for 23 years, according to an online bio at News Decoder, an educational site targeted at youth to which he contributed pieces.
He reported from more than 60 countries over four decades while travelling with seven US defence secretaries ranging from Casper Weinberger to Donald Rumsfeld.
A native of Charleston, South Carolina, he exemplified southern charm, including gracious manners, a love of grits, and a fondness for bow ties.
Aldinger was on the desk at United Press International in his pre-Reuters days when news of the shots fired at President Kennedy's Dallas motorcade rattled across the teletype.
One night while on that desk, he answered the phone to find Idi Amin on the other end, Carnes said.
As a young UPI reporter, he covered the first Cassius Clay-Sonny Liston fight in Miami Beach on 25 February 1964. That was when the fighter who later took the name Muhammad Ali won the world heavyweight boxing championship for the first time.
"Clay, bouncing like a kangaroo, just kept dancing out of reach around the plodding Liston, cutting his face with long, lightning jabs," Aldinger wrote for News Decoder more than 50 years later, in 2016. "My white shirt was speckled with Liston's blood as his face snapped from the blows."
His UPI and Reuters experience included postings in Buenos Aires and Hong Kong.
In addition to his wife, Aldinger is survived by a brother, Thomas, of Benicia, California.
A funeral mass will be held on 6 July at 11 am at Unity Acres in New York state. In lieu of flowers, memorials may be made via Unity Acres, PO Box 153, 13426, Orwell, NY, or to the charity of your choice, Carnes said. ■