News
Two senior editors to depart Reuters
Tuesday 15 March 2022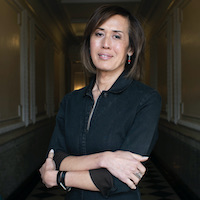 Two members of Reuters editorial leadership team are leaving for new opportunities, editor-in-chief Alessandra Galloni announced.
They are Gina Chua, executive editor, who is taking up a role with a new journalistic venture after 10 years at Reuters, and Rob Cox, Breakingviews editor, who has spent 13 years at Reuters and 22 at Breakingviews and is leaving for "a new adventure outside of journalism". Both will depart over the next month, Galloni told staff.
Chua has overseen Reuters editorial operations, including budgets, safety, security and logistics, "through tumultuous times with great skill and stamina," Galloni said. She is to become executive editor of a new media start-up headed by Ben Smith, formerly a media columnist for The New York Times, and Justin Smith, former chief executive of Bloomberg Media.
Cox was a founding editor of Breakingviews in 2000. He joined Reuters following its acquisition of the financial commentary business in 2009. He is moving to Zurich to head Credit Suisse Group's corporate communications.
"As Gina and Rob depart, two of our most senior leaders have agreed to step in and see us through the coming months," Galloni said.
Simon Robinson, global managing editor, will temporarily take on Chua's responsibilities for security, operations and budget management. "With long experience in conflict journalism, he has already been helping Gina oversee security matters in Ukraine since the start of the conflict," Galloni said.
Peter Thal Larsen, Breakingviews editor for Europe, the Middle East and Africa, will take on the role of its interim editor. "One of the world's best known names in financial commentary, Peter will maintain Breakingviews' momentum and provide continuity while we search for Rob's permanent successor. This will ensure we continue to deliver agenda-setting financial insight in real time to LSEG [London Stock Exchange Group] Refinitiv and Breakingviews customers." ■
SOURCE

Reuters