News
Obituary: Sir Christopher Hogg
Saturday 18 December 2021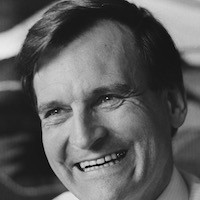 Sir Christopher Hogg (photo), who has died aged 85, was chairman of Reuters during a period of spectacular growth that turned to stock market turmoil and job losses for thousands of customers in banking and financial services.
Hogg, then chairman of textiles and chemicals giant Courtaulds, was appointed a non-executive director of Reuters in 1984 when the company floated in London and New York, and within a year was chairman.
Reuters was in the ascent. The news agency was being transformed into a hi-tech dealing and financial information service.
By the time Hogg stepped down in 2004 it was suffering from stiff competition from rival information service providers such as Bloomberg which had grabbed market share from Reuters.
Board meetings during the 1980s were lively, by all accounts. Two fiercely competitive, larger-than-life Fleet Street press barons, Rupert Murdoch and Robert Maxwell, were also directors, and Hogg, described by The Times as an "intimidating but civilised captain of industry who hired as well as he fired", had to keep order.
When Hogg stood down as chairman in 2004, chief executive Tom Glocer paid tribute, saying: "In his 18 years as chairman he has guided Reuters through many very good years and some challenging ones, but his judgment, intelligence and strong moral compass have inspired us all. He has stayed in the chair when it would have been far easier for him personally to retire and he has provided me with wise counsel and support."
Hogg died on 7 December from complications of surgery. ■