News
Thomson Reuters reports higher quarterly revenue
Tuesday 3 November 2020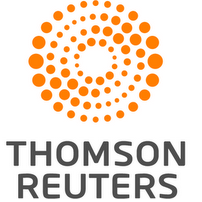 Reuters owner Thomson Reuters on Tuesday reported higher revenue for the third quarter on gains in its legal and corporate divisions as cost cuts helped lift its full year free cash flow outlook.
Quarterly revenue rose two per cent to $1.44 billion and operating profit rose 21 per cent to $318 million.
Organic revenues at Reuters News slipped two per cent, reflecting a decline in the agency business and the ongoing impact of the coronavirus crisis on its events business.
Thomson Reuters said the results gave it increasing confidence for its full-year financial forecast, but that the course of the COVID-19 pandemic could change this.
"I'm very pleased to report our markets and businesses continue to prove resilient in the face of a challenging broader macro-environment," Steve Hasker, president and CEO, said.
"Our third-quarter results were above our expectations across the group from the top line to the bottom line," he said in a statement. "Our customers are adapting to a new cadence in this environment, and we continue to adapt to support them in their evolving ways of working."
Thomson Reuters said it has not experienced any significant disruptions to its business due to the pandemic and continues to be fully operational. Most employees continue to work remotely from home, enabled by technology that allows them to collaborate with customers and each other.
Essential employees who cannot work from home, such as journalists and those working in the company's Global Print facilities, follow various health and safety standards. While the company cancelled or postponed nearly all in-person conferences, primarily in its Reuters Events business, many of these events were replaced with virtual meetings. The company continues to act based on guidance from global health organisations, relevant governments and evolving best practices.
The company said it continues to believe it is well positioned to weather the economic crisis because its business is supported by a solid financial foundation with access to liquidity resources that it believes are adequate to support it through a gradual recovery.
On 1 October 2018, the company sold a 55 per cent interest in its Financial & Risk business to private equity funds. Thomson Reuters retained a 45 per cent interest in the business, which is now known as Refinitiv.
Refinitiv believes it is on track to achieve its full annual cost savings run-rate target of $650 million by the end of 2020.
On 1 August 2019, Thomson Reuters and private equity investors agreed to sell Refinitiv to London Stock Exchange in an all-share transaction for a total enterprise value of approximately $27 billion. The proposed transaction is subject to regulatory clearances and other customary closing conditions and is expected to close in the first quarter of 2021. Upon the closing of this transaction, Thomson Reuters is projected to indirectly own approximately 82.5 million LSE shares, which would have a market value of approximately $8.8 billion based on LSE's closing share price on Monday.
Thomson Reuters executives said after the results that the company was ahead of its cost cutting target and planned to reinvest in its core businesses during the fourth quarter.
Chief financial officer Michael Eastwood said in an interview with Reuters that Thomson Reuters was still evaluating acquisition targets and could announce a deal this year or early in 2021.
The company has about $700 million to spend as part of a $2 billion budget to fund expansion in its legal, tax and accounting businesses. ■
SOURCE