News
China TV violated UK law in airing ex-Reuters man's forced confession - Ofcom
Monday 6 July 2020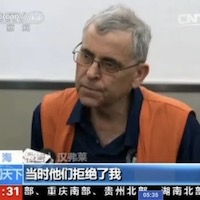 Broadcast regulator Ofcom said China's state television is responsible for serious violations of UK broadcasting rules by airing the forced confession of former Reuters correspondent Peter Humphrey (photo).
The watchdog put the China Global Television Network (CGTN) on notice that it intends to impose a punishment, which could include fines or cancelling its licence. CGTN's entire Europe-wide operations are based in London.
Ofcom's decision is final and cannot be appealed.
Humphrey was with Reuters in the 1980s and 1990s. He later established a corporate risk advisory firm.
He and his Chinese-born American wife and business partner Yu Yingzeng were detained after helping GlaxoSmithKline, the Anglo-American pharmaceutical company, to identify the source of a secretly filmed sex tape of its then top executive in China in bed with his girlfriend.
GSK was fined for funnelling billions of renminbi to hospitals, doctors and officials in an attempt to boost sales in one of the world's biggest and fastest-growing drug markets.
Humphrey and Yu were accused of "illegally acquiring personal information" of Chinese nationals and selling the information to clients including GSK.
They were sentenced to 30 and 24 months in jail respectively and held separately.
Humphrey was released from prison under diplomatic pressure in June 2015 amid reports of ill health, and he and Yu were deported.
His complaint against CGTN, filed in November 2018, alleged a series of violations of UK Broadcasting Code for airing multiple forced TV confessions.
During the investigation, CGTN provided a classified document from the Chinese police showing Humphrey had only agreed to a "confession" because it would reduce his sentence. ■
SOURCE

The Daily Telegraph