News
Obituary: Derek Charles
Wednesday 1 July 2020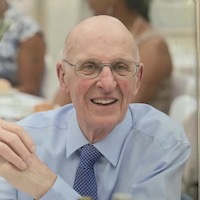 Derek Charles (photo), who has died aged 87, was the Eurovision editor first at Visnews and then Reuters Television from 1982 to 1995.
As such he was the public face of the agency, offering stories on the circuit to the European television channels who remain today Reuters Television's highest-paying group of customers, Tim Arlott writes.
He would refuse to offer any story we could not be absolutely sure would arrive at a given feedpoint, unlike our earlier rivals whose business model sometimes seemed to be based on a wing and a prayer and were often found wanting. No matter how stressful the day Derek never lost his temper or good humour. He was a fast, efficient and accurate journalist.
Attending Eurovision meetings over that period, the respect and affection with which the European TV foreign editors held Derek was inspirational. Over time it single-handedly differentiated Visnews and Reuters Television from our competitors.
Alistair Derek Charles, always known by his middle name, was an only child who was evacuated to Cornwall with his mother during the Second World War. It was just as well, as their house in Wimbledon was flattened by bombs.
Derek excelled at school but only ever had one ambition - to be a journalist. On school trips he would send reports to his local newspaper. He met his wife Barbara at a dance hall in Cheam aged 17, and they married in 1954. His first job was as a messenger but his unfailing enthusiasm eventually won him the chance to become a journalist.
He went on to work for magazines and news agencies and travelled far and wide. He retained a particular love of India where he spent considerable time.
Before joining Visnews he was deputy editor of the Sunday Telegraph Magazine.
More than five years after Derek retired, his spirit continued to influence the high regard in which Reuters Television was held. The agency was involved in tense negotiations with Dutch National Television. The aggressive young news director kept repeating that as far as he was concerned APTN and Reuters Television were exactly the same, Reuters was more expensive and they could no longer afford both. Mieneke Rothfusz, Dutch TV's foreign editor for more than 20 years, was one of the many who adored Derek for his integrity and polite charm. She had remained silent throughout the meeting. As we left I said "I am not going to ask her to say anything now but please ask Mienike if she thinks the two agencies are exactly the same."
The news director phoned two weeks later on Christmas Eve to say they had dropped APTN. We had banked everything on the spirit of Derek Charles and he had won.
Derek's beloved wife Barbara died 18 months before him. He is survived by his two children Carolyn and Stephen. ■