News
Obituary: John Lowe
Monday 27 April 2020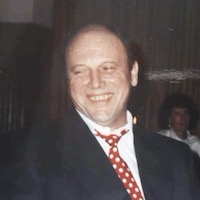 John Lowe (photo), who died at the weekend, was one of the swashbuckling executives who contributed to Reuters exponential sales growth in the 1970s and 80s.
Trained as a chartered accountant, Lowe joined Reuters in 1977 as an executive in the City sales office. It was a time of huge increases in sales in London and other financial centres.
A lifelong Londoner born in 1942, he remembered having to come to terms with the company's corporate culture. There was high-spirited bad behaviour, he admitted many years later. Well, appallingly bad behaviour at sales conferences particularly, he told Reuter Society members in 2010, but he inspired fierce loyalty to himself and to the group.
It was a period of "almost unmanageable expansion" leading up to the flotation of Reuters on the London Stock Exchange in 1984. "We had the best days," he recalled.
Lowe's sole posting overseas was to Tokyo where he became the first foreign sales manager. When he left Reuters 1991 he was deputy managing director, Northern Europe. ■