News
Obituary: David Sells
Saturday 15 February 2020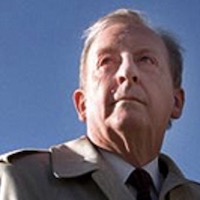 David Sells (photo), who has died, was a Reuters correspondent who found management work not to his liking and left to become a BBC radio and television reporter.
Assigned by Reuters sports desk in London to cover the Horse of the Year Show, "he returned to his seat to find it occupied by a handsome male clad in a posh, camel-hair coat, side by side with a lady in expensive furs," as he later recounted to the website of BBC Television's Newsnight, where he went on to work for 26 years as a foreign affairs specialist.
"What?" snarls Mr Camel-Hair, when Sells tackles him. "This is a press seat," Sells replies, "and it is mine."
"With wonderful ill-grace, the film star, Michael Rennie, gets up with his befurred lady, and departs. A moment of magic. David was Press. He'd arrived."
Sells joined Reuters in 1952. He became a correspondent in Rome, covered the Suez invasion in 1956, then Warsaw, chief correspondent in Germany, and finally manager in Brussels. Deciding after a year and a half that he preferred journalism, in 1966 he answered a call from the BBC.
Summoned to Reuters head office in London, he told the boss: "I resign." Back came the response: "Don't be a fool. If you resign, I can't pay you any money. I have to sack you."
For the BBC in 1968 he covered riots in Paris, Prague awaiting a Soviet invasion, then Vietnam. From 1971-76 he was Beirut-based as a BBC TV news correspondent. In 1976 he presented Radio 4's The World in Focus, a new daily, foreign affairs programme.
Sells was with Newsnight since its inception in 1980, doing its first foreign report (from Oman). His principal areas of coverage during 40 years with the BBC were Europe and the Middle East, with occasional forays to Japan, the United States and Latin America. ■