News
'Orphan asset' Reuters 'not for sale'
Friday 1 November 2019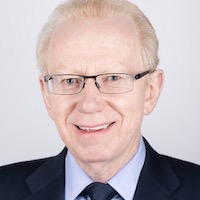 Thomson Reuters has rebuffed takeover interest in Reuters, the Financial Times reported on Friday, betting instead on the agency's new president to turn it round.
Several would-be buyers have approached the company and intermediaries in recent months, people familiar with the matter told the FT.
German media business Axel Springer and a group of individuals including Mark Wood (photo), former Reuters editor-in-chief (1989-2000) and ITN chief executive and chairman, were among interested parties.
No talks are active and hurdles may make a deal impossible, according to the people. But they said the suitors saw an opportunity to burnish a trusted but low-margin global news brand at a time of flux at its parent company.
Thomson Reuters, Axel Springer and Wood declined to comment to the FT.
Rumours of Wood's interest have circulated for some time. Earlier this year, The Baron asked him about market chatter that his name was being mentioned in connection with a bid backed by Goldman Sachs. He said he had had no discussions with Goldman about Reuters.
Some would-be suitors see Reuters News as an orphan asset after Thomson Reuters sold a majority stake in its financial data business to Blackstone for $17 billion a year ago, the FT said. The news operation contributes less than three per cent of group earnings and sits in a company now dominated by legal and corporate services.
But the deal that created Refinitiv has also added to obstacles to a sale, according to people close to the company, its controlling Thomson family of Canada and potential bidders.
Refinitiv agreed to pay Reuters News $325 million a year but only on condition it hit certain output targets. Non-compete clauses also limit its ability to work with Refinitiv's rivals, closing off potential commercial opportunities.
Thomson Reuters is expected to cut its stake in the London Stock Exchange within five years of next year's completion of LSE's $27 billion purchase of Refinitiv but the news supply agreement lasts for almost 30 years.
Refinitiv's cash injection boosted Reuters News revenues by 120 per cent to $155 million in the third quarter, according to group earnings results announced on Thursday. The annual payments do not cover the full cost of the 2,000-strong newsroom but offer a steady source of revenues for a news wire that has struggled to keep pace with its larger rival Bloomberg, the FT said.
It said people close to David Thomson, the group's third-generation family chairman, say he is keen to keep Reuters News but note he is just one member of a family with diverse views that controls Thomson Reuters through Woodbridge, an independent investment vehicle that may be more open to a sale if it creates value.
James Smith, Thomson Reuters chief executive, has also opposed a sale, telling the FT in August that while "everybody talks to everybody about everything", the news business was "not for sale".
The company has begun a search for Smith's successor, however, encouraging some suitors who believe a new CEO may be willing to sell, the FT said.
It said Reuters journalists were angered when Refinitiv pulled some of the news wire's content from the company's Eikon terminals, in effect blocking its coverage of the anniversary of the Tiananmen Square crackdown in China.
"The cultures are different," said one senior Reuters News figure.
The FT noted that the newsroom culture is guarded by a trust that presents another substantial hurdle to bidders. The Thomson Reuters Founders Share Company's mandate to protect the newswire's "integrity, independence and freedom from bias" in effect gives it a veto over any deal.
It said: "In the absence of a sale, Thomson Reuters is backing Michael Friedenberg to give a jolt to a business that reported organic revenue growth of just 3 per cent in the third quarter. It hired him as president of Reuters News last year with a mandate to find new revenue sources. 'We are in investment mode,' he told the FT, reiterating that the group was not for sale."
His biggest move to date has been this month's acquisition of an events company called FC Business Intelligence. Thomson Reuters would not disclose the purchase price but said the rebranded Reuters Events would report revenues of $40 million next year. Industry insiders said it had paid more than $150 million, underscoring its commitment to the new strategy.
"Events are not as volatile in good times," Friedenberg told the FT. He also said artificial intelligence technology offered a "huge opportunity for objective, trusted journalism", including the chance to exploit its archive. ■
SOURCE