News
Thomson Reuters begins search for successor to James Smith
Sunday 20 October 2019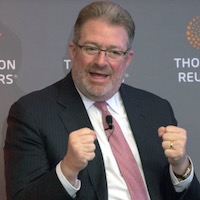 Thomson Reuters is looking for a new chief executive to succeed James Smith (photo), the Financial Times reported.
It said four people with knowledge of the succession process said the company's board had appointed a search firm, Spencer Stuart, to draw up a shortlist of internal and external candidates. The search was at an early stage, one said, with the handover unlikely to happen this year.
Two of those people said that Neil Masterson, the co-chief operating officer responsible for commercial and technology operations, was an internal contender, the FT said. Masterson is one of the few executives at the company who had worked for both Thomson Corporation and Reuters before the Canadian company's $17 billion takeover of Reuters in 2008.
Smith, 60, who has led the group since 2012, oversaw the sale of the finance and risk division formed from combining Reuters with the group's Thomson Financial division. In a two-stage deal, it first sold a majority stake in the financial data business to consortium led by private equity firm Blackstone for $17 billion and then, this summer, agreed the sale of the renamed Refinitiv to the London Stock Exchange for $27 billion.
The second of those transactions, which is due to close in the second half of 2020, will leave Thomson Reuters a substantial shareholder in the LSE, but it has said that it plans to sell down its stake within five years.
The Refinitiv-LSE deal, in which Masterson was closely involved, unleashed a flurry of interest in the Reuters News business, several people told the Financial Times, but Smith and the Thomson family members whose voting rights control the company have told would-be buyers it is not for sale, the FT said.
Smith is a former Thomson Newspapers journalist who was put in charge of the group's professional information services after the Reuters deal. The FT said he came in at a low ebb in January 2012 amid dissatisfaction with the take-up of the new financial data products with which Thomson Reuters hoped to compete with Bloomberg.
He began by accelerating cost-cutting plans, but top-line growth has picked up more recently.
Smith was treated in hospital in 2018 after what the company described as "an arrhythmia incident".
David Thomson, Thomson Reuters chairman, said: "The board is fully supportive of Jim Smith and his management team. We are aligned on strategy and direction. And, we are working closely with management to achieve continued success for years to come."
The company added: "The board of directors considers succession planning and benchmarking for all key executives a matter of good governance. Hence, the board and management continuously assess internal candidates and work with search firms to scan the external market."
In an email to colleagues after the FT published news of the search for his replacement, Smith described it as part of the company's normal succession planning process. "I'm not planning to go anywhere soon," he said. ■
SOURCE

Financial Times