News
Obituary: Paul Ingrassia
Monday 16 September 2019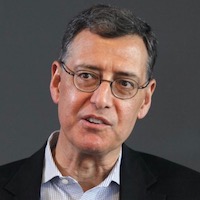 Former Reuters managing editor Paul Ingrassia (photo) died on Monday after suffering from pancreatic cancer. He was 69 and had endured cancer treatments off and on for more than two decades.
Prior to joining Reuters Ingrassia spent three decades at Dow Jones, in senior leadership roles both at The Wall Street Journal and the newswire.
In 1993, when he was chief of the Journal's Detroit bureau, he and his deputy, Joseph B. White, won a Pulitzer Prize for their reporting on turmoil at General Motors that included major losses, factory closings and the ouster of its chairman.
Editor-in-chief Stephen Adler, a colleague first at the WSJ and later at Reuters, wrote a tribute that described Ingrassia as the strongest person he had ever known.
"Intensely joyful and bristling with enthusiasm for journalism, cars, fly-fishing, golf, people in general, and his adored family in particular, he was also cruelly afflicted. He survived lung cancer surgery 22 years ago, only to lose his beloved son Charlie to cancer earlier this year. He suffered through other cancer diagnoses in recent years, gamely tackling each treatment and, between relentless medical interventions, managing to sneak in a fishing trip, a golf game, or an appearance on CNBC. In accepting the Gerald R. Loeb Lifetime Achievement Award in 2016, he acknowledged his bouts with cancer by deadpanning: 'I often think that my biggest lifetime achievement is simply having a lifetime.' But Paul did so very much more than survive. He was a force of nature and a rare inspiration, sharing with everyone around him his exquisite generosity, his lifelong devotion to unbiased and illuminating journalism, and his fierce love of life."
At Reuters, where he was managing editor from 2011 until 2016, he combined a deep understanding of financial markets and clarity of news judgment with a keen eye for emerging talent, Adler wrote.
"As recently as this month, in the midst of an especially toxic round of chemo, he wrote to compliment one of his 'discoveries' for an extraordinary piece of reporting from Latin America. He also had a penchant for remembering everyone's name and face in an organization of thousands of journalists, and he managed to greet each person he encountered with a specific, thoughtful comment or question. It seemed like a magic act, and it awed all of us, but what it really reflected was how much he simply cared about people. Far from an act, it was his essence."
Adler said Ingrassia was the best possible partner and managing editor at Reuters, eagerly moving to London in 2013 when it became clear his senior presence was needed there and travelling everywhere in the world to connect with and mentor the agency's far-flung journalists. "And bear in mind he did all this with just one lung in some of the most polluted cities in the world."
Future News Worldwide co-founder Tom Thomson, a former Reuters editor, said: "Paul's belief from the beginning in an annual conference for the world's top young journalists made the concept a reality.
"He generously gave his personal time and committed Reuters to this now annual event.
"He will be sorely missed as an inspirational force by hundreds of the brightest and best." ■
SOURCE