News
More change at Reuters as some senior editors leave, others move
Friday 12 July 2019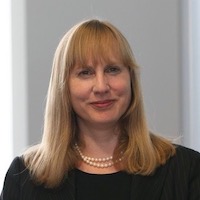 Some senior editors are leaving Reuters, some of them today, and others are moving in further fallout from the Refinitiv transaction. Those affected are veterans with decades of Reuters service.
There is speculation, unverified, among staff that the agency is being prepared for a sale. A Reuters spokesman denied the rumours absolutely.
In Europe, Canadian journalist Sarah Edmonds (photo), head of financial news strategy based in Switzerland, is leaving at the end of this month. Her previous roles since joining Reuters in Toronto in 1992 have included managing editor and general manager in Europe, and general manager in Singapore.
In a note announcing moves Jonathan Leff, head of financial news strategy, thanked Edmonds for "help through the Separation process in establishing our new engagement rhythms with Refinitiv".
Richard Mably, global editor, financial markets, commodities in London is also going. Brussels bureau chief Alastair MacDonald left recently to work on his own news project for children. Other departures have been made known to The Baron but are unconfirmed. The latest cull is understood not to be as large as one at the turn of the year.
In the United States, enhanced buyouts were offered for up to eight of the longest-serving journalists in New York, but only four applied. The enhancement was for several weeks more pay on top of the regular buyout.
Dina Kyriakidou Contini, US general news editor who joined as a reporter in Athens in 1989, is moving from New York to London to be editor, financial news strategy, Europe, the Middle East, Africa and Asia with a focus on supporting Refinitiv as well as journalists across Europe and Asia.
She "will be responsible for ensuring that we continue to align and evolve our global news file to meet and exceed the needs of Refinitiv's customers, who rely on Reuters to bring them fast, relevant and bias-free journalism every day," Leff told staff.
"Dina will be the principle liaison between our European and Asian news bureau and the regional Refinitiv businesses, acting at both a strategic level - exploring new coverage areas, promoting Reuters news, speaking with end-users - and also supporting some day to day operations as needed, such as coverage queries or issues. Additionally, she will be working closely with the Gdynia bureau - an essential part of our service - to support their expansion and collaboration with our European bureaus," he wrote.
Paul Thomasch, who began as an energy reporter 21 years ago and has been leading the Americas Top News team, will take over Kyriakidou's role on 5 August.
Following private equity investors' acquisition of control of the old Reuters terminals and data business last October, the news agency has been reshaping its structure and re-aligning its resources to best serve its biggest customer - the financial and risk division rebranded as Refinitiv.
Editor-in-chief Stephen Adler is leading a "newsroom of the future" project which he calls "a journey toward a smarter, more customer-focused, and more journalist-friendly way of working".
"With Newsroom of the Future, we believe we can have our cake and eat it too: becoming more effective both globally and locally," Adler told staff last month.
He is building a global editing desk in place of the three regional ones and has expanded the agency's structure into six regions from three whilst simultaneously concentrating budget and operational issues under central direction.
The aim of the new structure is to focus on preparing Reuters editorial work for different distribution platforms for the agency's own outlets and those of its traditional customers as well as companies like Facebook, Apple, Amazon, Netflix and Google. ■