News
Trust Principles guardians name two new directors
Friday 11 January 2019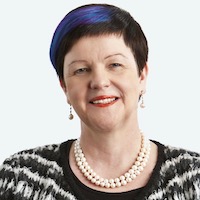 The Thomson Reuters Founders Share Company, guardian of the Trust Principles created in 1941 to preserve Reuters independence, integrity and freedom from bias, appointed two new directors.
They are Baroness Lucy Neville-Rolfe (photo) and Linda Robinson.
Neville-Rolfe is a member of the UK House of Lords EU committee and financial services sub-committee. She is a former minister in the Treasury and in the British government's business and culture departments. Previously she was with supermarket Tesco and also worked for the Foreign and Commonwealth Office.
Robinson was involved in operations, risk, governance and control in international financial services and held various executive roles at investment group Fidelity International.
Kim Williams, chairman of the Founders Share Company's board, said: "Baroness Neville Rolfe and Linda Robinson are accomplished leaders with diverse experience across the public and private sectors. Their long and storied careers reflect a keen sense of business and society with a devotion to democracy, diplomacy, commercial acumen and public service. We are delighted to welcome them to the Founders Share Company Board of Directors where their skills will supplement those of their fellow directors in the continuing service of ensuring the vitality of the Reuters Trust Principles including a primary focus on Trust, Integrity, Independence and Freedom from Bias in the output of Reuters News and Media editorial delivery at a time where those priorities and values have never been more important."
Williams did not say who they replace on the board. ■